Venezuelan Protesters Demand End of Torture on Independence Day
By Sinikka Tarvainen, dpa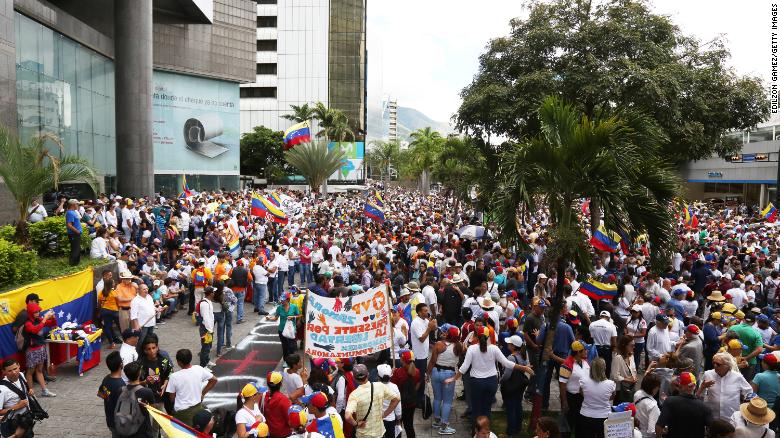 HAVANA TIMES – Venezuelans around the country on Friday demonstrated for the end of political repression and torture, with protesters in Caracas marching to the headquarters of the military intelligence agency DGCIM.
"A few meters from here, they torture and assassinate Venezuelans who think differently," opposition leader Juan Guaido told a large crowd near the headquarters.
A heavy police presence prevented the crowd from reaching the building, Colombian broadcaster Caracol reported.
Government supporters meanwhile staged their own rally to mark the 208th anniversary of Venezuela's independence.
President Nicolas Maduro attended an independence celebration at Caracas' Military Academy. He said his supporters were "on the right side of history" and called on them to prepare themselves for "the battles we are delivering."
Soldiers closed doors leading to part of the building housing the opposition-dominated National Assembly, preventing public figures and members of the public from participating in Independence Day celebrations that were being held there, the assembly tweeted.
Benjamin Scharifker, rector of Caracas' Metropolitan University, addressed the assembly. He referred to the recent cases of a teenager who lost his eyesight after police fired rubber bullets at him and a naval officer who was allegedly tortured to death by the DGCIM.
Scharifker called on influential people in Venezuela and elsewhere to help end "this crisis that sweeps everything away with it."
UN human rights chief Michelle Bachelet said in Geneva that there was evidence of the systematic torture of people who had been arbitrarily arrested in Venezuela.
Bachelet addressed the UN Human Rights Council one day after her office released a scathing report on the human rights situation in the country.
The office said 66 people had been killed during anti-government protests between January and May, and that there had been more than 6,800 extra-judicial killings in the context of security operations last year and this year.
The report also said that nearly 800 people were in custody after having been arbitrarily detained.
Venezuela's Deputy Foreign Minister William Castillo told the council that there had only been "occasional excesses" by security forces.
The government was meanwhile releasing 22 people, Guaido said on Friday.
They included judge Maria Lourdes Afiuni, who was jailed after the late president Hugo Chavez criticized one of her rulings, and journalist Braulio Jatar, who was arrested on charges of money-laundering after reporting on a protest against Maduro.
The two were later released into house arrest.
The Supreme Court said it had revised Jatar's case and ended the precautionary measures for Afiuni. Jatar said on Twitter that he had been told to appear before a court every 15 days and banned from leaving the country and the state where he lives.
Chile meanwhile prohibited the entry into the country of more than 100 persons "directly linked to the Venezuelan dictatorship," local media quoted President Sebastian Pinera as saying. Pinera did not reveal the identities of the people concerned, according to Radio Cooperativa.
Maduro won a second term in a disputed election last year and has faced attempts by the US-backed opposition to oust him amid an escalating economic crisis.