Venezuela's Security Forces Seal Off Opposition-Controlled Parliament
By Sinikka Tarvainen, dpa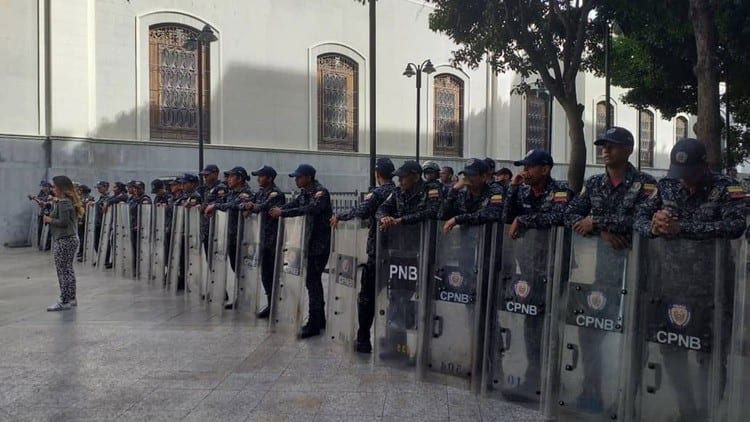 HAVANA TIMES – Venezuelan security forces on Tuesday prevented lawmakers from entering the parliament building, after the Supreme Court placed several of the legislators under investigation on treason charges last week.
Soldiers and police sealed off the area following an alleged bomb threat, local media reported.
Opposition leader Juan Guaido accused President Nicolas Maduro's government of "persecuting" and trying to "kidnap" the opposition-controlled National Assembly.
"Today [Maduro] has again shown he is afraid of the legitimacy of the Assembly," he tweeted.
Lawmaker Luis Stefanelli said parliament did not fear "this type of threat" and would meet elsewhere. "There will be a session of the National Assembly, be it under a bridge or on a square," daily El Nacional quoted Stefanelli as saying.
The National Assembly, which is headed by Guaido, is trying to oust Maduro, who won a second term in a disputed election a year ago.
His rule has been marked by a massive economic and political crisis, with about 3.4 million Venezuelans fleeing hyperinflation, goods shortages and political unrest abroad.
More than 50 countries have meanwhile recognized Guaido as Venezuela's legitimate leader.
The National Assembly had on Tuesday been due to discuss the situation of several lawmakers whom the Supreme Court placed under investigation on charges including treason. The legislators are suspected of involvement in an alleged coup attempt by Guaido on April 30.
Edgar Zambrano, the vice president of the assembly, was also arrested last week.
Two of the lawmakers under investigation have sought refuge at the Italian embassy and one at the Argentinian embassy in Caracas.
Also on Tuesday, Amnesty International said Maduro's government may have committed crimes against humanity and called for it to be taken before "an independent and impartial judicial body."
"Selective extrajudicial executions, arbitrary detentions, and deaths and injuries caused by the excessive use of force by Nicolas Maduro's government as part of a systematic and widespread policy of repression since at least 2017 may constitute crimes against humanity," the rights group said in a statement based on a new report.
During massive anti-government protests from 21 to 25 January this year, at least 47 people were shot dead in 12 of the country's 23 states, according to Amnesty.
At least 33 of them were killed by state security forces and six by third parties acting with the approval of the authorities. More than 900 people were arbitrarily detained.
The events during those five days reflect a policy of repression documented by Amnesty since 2014, the rights group said.
Amnesty has also denounced more than 8,000 extrajudicial executions by the security forces between 2015 and 2017.
Amnesty urged the UN Human Rights Council to establish a commission of inquiry and called for "the activation of universal jurisdiction by countries genuinely concerned about the situation in the country."
The Office of the Prosecutor of the International Criminal Court, which began a preliminary examination on Venezuela at the start of 2018, "should also take these events into consideration," the statement added.
US Secretary of State Mike Pompeo meanwhile urged Russia to stop supporting Maduro.
The president has "brought nothing but misery to the Venezuelan people," he said in the Russian city of Sochi at joint press conference with his Russian counterpart Sergei Lavrov, who responded by saying that "threats by the US administration" against the Venezuelan leadership have "nothing to do with democracy."