A. Despaigne Wins 2nd Straight Cuba MVP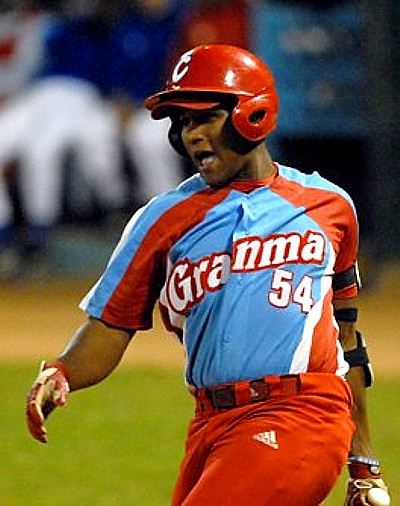 HAVANA TIMES, April 27 — Boasting his second consecutive home run title and barely missing a rare and coveted "triple-crown" season, Granma outfielder Alfredo Despaigne has walked off with repeat Cuban League MVP honors and thus joined Wilfredo Sánchez and Yulieski Gourriel as the only back-to-back outstanding player honorees in league history.
The Granma slugger (also the outstanding player of last fall's European World Cup) easily outdistancing both Gourriel and José Dariel Abreu by comfortable margins in the official Cuban press ballot announced earlier today. Despaigne this winter enjoyed one of the most complete offensive performances in National Series annals, missing his previous year's record home run mark by only a single four bagger, hitting over .400 to overhaul both Gourriel and Abreu down the stretch run of the individual batting race, and trailing only Gourriel in the RBI department. Other noteworthy features of this year's post-season awards include a tie for manager of the year honors, three unanimous all-star selections, and a number of surprising new faces among Cuba's most celebrated players.
The official post-season awards are selected by a 22-member Cuban baseball media panel which now includes both this writer and www.BaseballdeCuba.com colleague Ray Otero. In the polling results released this morning, Despaigne heads up a National Series all-star squad that features three unanimous selections (Despaigne, Gourriel and Abreu) as well as a number of newcomers to such post-season honors (Abreu, as well as trio of prospects from a Las Tunas ballclub that failed to reach post-season play).
Claiming their first all-star credentials are Las Tunas catcher Yosvani Alarcón (a 25-year-old national team prospect who batted .318, blasted 26 round-trippers, and also knocked home 76 runs) and a talented Magos (Magicians) middle-infield combo of fast-developing shortstop Alex Guerrero (at 23, the league's number 20 ranked hitter with a .343 mark plus 19 homers and 87 RBIs) and veteran 33-year-old second baseman Danel Castro. Castro (who at decade back played for Team Cuba in the 1999 Baltimore exhibition contest versus the big-league Orioles) enjoyed a remarkable career revival this season with the league's eleventh-best batting mark (.354). Alacrón (who failed to smash a single home run in 2008-09) clubbed the highest number of homers in a single National Series season ever posted by a full-time backstop.
One noteworthy feature of this year's ballot is the fact that neither the mythical all-star squad nor the annual "Gold Glove" "all-defensive" team features a single ballplayer from surprise league champion Industriales. But the Blues do boast this year's post-season MVP selection in veteran slugging first baseman Alex Malleta. And the Blue Lions also laid claim to half of the top manager honors when skipper Germán Mesa and Villa Clara bench boss Eduardo Martin split the 22 ballots right down the middle. Rookie of the year honors go to young Metros outfielder Yusef Amador whose sparkling debut included a .334 batting mark alongside 13 homers and an impressive 63 RBIs for the league's worst team. Given the past practice of switching top Metros prospects to the cross-city Industriales roster, it is a very safe bet that Yusel Amador with be chasing fly balls next winter for the league's more popular capital city team managed by Germán Mesa.
Amador's only serious rival for top "novice" honors was hard-throwing Villa Clara southpaw Yasmani Hernández. Hernández failed to garner a single first-place ballot for regular-season honors, but did take home the playoff-round top rookie trophy. The league's all-defensive team in turn featured three Sancti Spíritus players (not surprising from the team with the season's best overall record), including third baseman Yulieski Gourriel. The Gallos star was thus the only athlete featured on both all-star squads (the all-around roster plus the all-defensive team).
For a full breakdown of the Cuban Regular and Post Season Awards visit baseballdecuba.com.