Air Europa Pilots Ask to Avoid Venezuela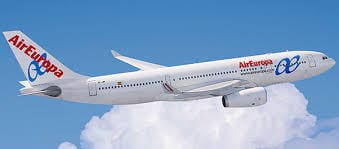 HAVANA TIMES – The pilots of Air Europa asked the Spanish airline to stop flying to Venezuela, as other European companies did, or to prevent crews from having to spend the night in the country, the SEPLA pilots' union said on Friday, reported dpa news.
Air Europa is one of the few European airlines that continue to have its flight crew spend the night in Venezuela, something that "puts at risk the security and the physical integrity of the crews that have to travel from the airport to the hotel in which they are lodged, "according to union delegates.
SEPLA noted that several hotels in Caracas have suffered firearm assaults and that the Spanish Foreign Ministry itself advises its citizens to avoid any trip to Venezuela "except for reasons of extreme necessity."
The representatives of the pilots of Air Europa proposed to the company alternative measures not to have to sleep in Venezuela, including the transfer to other destinations in the Caribbean, where the airline has scheduled frequent flights.
In addition to the risks involved in moving from the airport to the hotel, pilots fear that the escalation of tension between the government of Nicolas Maduro and the opposition "could degenerate into a warlike conflict with a closure of airspace," the statement added.
So far, ten airlines have indefinitely canceled flights to Caracas, currently considered one of the most dangerous capitals in the world. Others, such as Iberia, have taken alternative measures, such as moving their crew to sleep in Santo Domingo, Dominican Republic to prevent them from leaving the airport to the city.