Alan Gross, Invited to State of the Union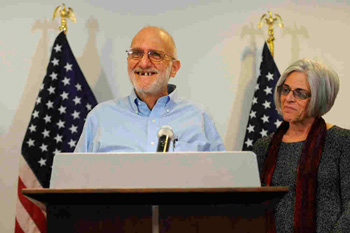 HAVANA TIMES — Alan Gross, a USAID subcontractor freed by Cuba under the thawing of relations between the two countries, will be tomorrow a guest of President Obama at the State of the Union.
Gross and his wife are on the guest list for the first lady, Michelle Obama, released today. It is customary at the annual message to invite persons that the administration believes are important figures in its defense of its policies before Congress.
Gross was released on December 17, 2014, from prison in Cuba after serving five of a 15 year sentence for introducing sophisticated telecommunications devices into the country prohibited by the laws of the island.
His release and that of a Cuban spy working for the CIA had as its counterpart in the release of three Cubans convicted of espionage in the United States. The exchange was part of the agreement under which the two countries decided to resume relations after more than half a century of confrontation.
When he makes his State of the Union address on Tuesday, Obama is expected once again to defend his new approach to policy towards Cuba, opposed by a portion of the Republicans.