American Airlines Flies into Havana, Future Uncertain with Trump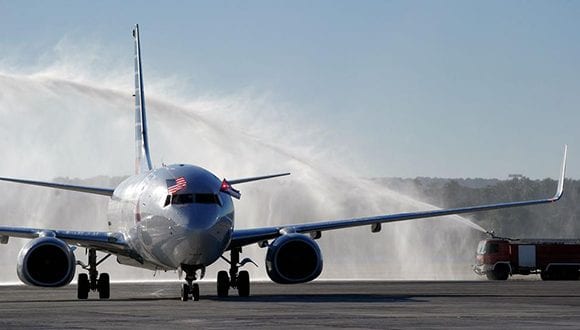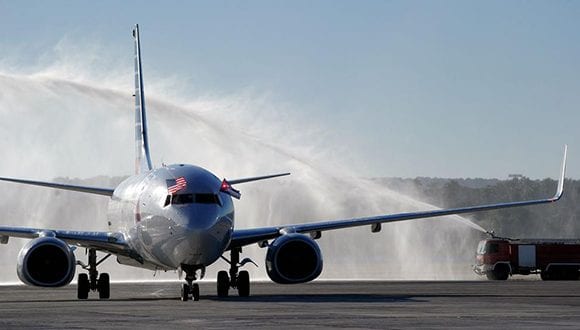 HAVANA TIMES – The first commercial flight between Miami and Havana in more than 50 years landed on Monday in the Cuban capital, coinciding with the start of funeral honors for Fidel Castro and the threat of Donald Trump to reverse the opening towards the island.
The American Airlines jet took off in the morning from Miami and landed less than an hour later in Havana. It was the first direct commercial flight to the capital, but not the first to Cuba from the United States.
On August 31 of this year commercial air links between the two countries resumed since 1961. The first one was operated by Jetblue. It aircraft took off from the Fort Lauderdale airport in Florida and landed in Santa Clara with US Transportation Secretary Anthony Foxx on board.
All the companies that operate the flights are from the United States. At the moment, restrictions for Cuban companies are still in force.
Despite the resumption of direct commercial flights, US citizens are still banned from being "tourists" in Cuba under the embargo. However, Obama relaxed the procedures by which they can avail themselves easily of 12 ways to travel including people-to-people travel for cultural, academic or religious interests.
Cuban-Americans can travel to Cuba to see their relatives without restrictions since 2009, traveling in most cases on charter flights.
"There are up to 110 daily flights scheduled to take off from the United States and land in Cuba in the coming months," White House spokesman Josh Earnest said on Tuesday.
Precisely because of commercial issues like this, the spokesman considered it unlikely that Donald Trump would dismantle the policy of rapprochement between the United States and Cuba when he arrives at the White House.
In a Twitter message, the president-elect threatened to do so today if there are no political changes in Havana.
"If Cuba is reluctant to reach a better agreement for the Cuban people, for the Cuban-American people and for the United States as a whole, I will put an end to the agreement," Trump wrote.