Army/Police Attack Anti-Canal Protest in Nicaragua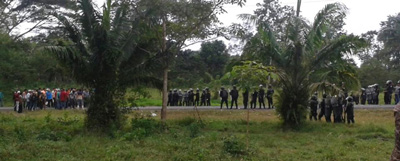 HAVANA TIMES — Violent incidents occurred today in an area of southern Nicaragua, where the army and police broke up a demonstration of farmers protesting against the construction of an interoceanic canal, unofficial sources told dpa news.
Nemesio Mejía, a leader of the Council of Defense of the Land and Sovereignty, told dpa that the events occurred early this morning in El Tule in the province of Río San Juan, where soldiers and police clashed with farmers who had blocked a stretch of road, as part of their protest.
According to Mejía, the confrontation had left four dead of gunshot wounds (two peasants and two soldiers), some 50 civilians injured and at least four detainees, but the information has not been officially confirmed.
The press offices of the army and police have not released any information on the clashes.
Mejia also reported that about 50 farmers protesting on Tuesday evening in the southern province of Rivas were arrested and taken to a detention center in Managua, where they remain under investigation.
He said that among those arrested is Octavio Ortega, principal leader of the Land Councils in the south the country and considered one of the organizers of the recent anti-canal protests.
The day before, the president of the opposition Sandinista Renewal Movement (MRS), Ana Margarita Vijil, and the member of parliament from the same party, Victor Hugo Tinoco, were detained by police for several hours in the area of New Guinea (South Central) and El Tule, respectively, after attending peasant protests.
President Daniel Ortega and Chinese businessman Wang Jing, of the HKND consortium, announced Monday the official start of construction of the canal in the south of the country. The mega-project has an estimated cost of $50 billion US dollars.