AWOL Cuban Wins Tribeca Acting Prize
By Andy Goldberg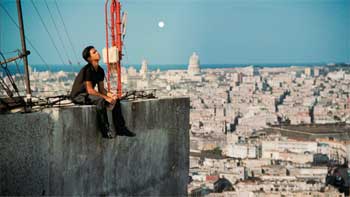 HAVANA TIMES, April 27 — (dpa) – One of the top prizes at New York's Tribeca Film Festival has gone to a Cuban actor who went missing upon arriving in the US for the annual movie competition.
Javier Nunez Florian won a best actor award for his role in the film "Una Noche", a week after disappearing at a Miami airport during a stopover on the way to Tribeca. One of his co-stars, Anailin de la Rua de la Torre, also went missing.
Both stars are thought to have decided to emigrate to the US, taking advantage of the Cuban Adjustment Act.
Una Noche focuses on three Cuban teenagers who try to flee the Communist island nation in a dangerous ocean crossing to Florida aboard a homemade raft.
Another actor in the film, Daniel Arrechada, shared the acting prize with Florian. "I can't believe it," Arrechada said. "Thank you very much. I thank you with my whole heart. I'll never forget this day."
The award for best feature prize went to the Congo-based "War Witch", about a young girl's bid to escape from rebels who turned her into a child soldier. Rachel Mwanza, 15, a non-professional actress who played the lead role in the film, won the best actress prize.
"This remarkable young woman – barely a teenager when the movie was shot – so fully inhabits her role that there are no borders to her stunning performance, no distance at all between the actress and the unforgettable character Komona," declared the jury.
The best documentary prize went to "The World Before Her", about competitors in the Miss India pageant.
The Tribeca Film Festival was founded in 2002 by Robert De Niro and others to revitalize the Tribeca neighbourhood of Manhattan, which was hit hard by the attacks upon the nearby World Trade Center in September 2001.
NOTE:   The fate of two Cuban actors who went missing en route to a US film festival was clarified at the weekend after they turned up on a Spanish-language Miami television channel, announcing that they were requesting asylum in the United States.