Ban Ki-Moon Visits Cuba's ELAM Med School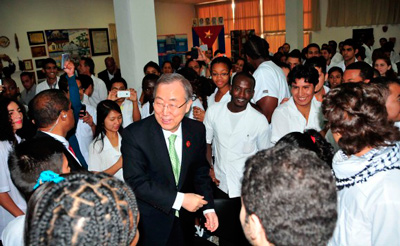 HAVANA TIMES — UN General Secretary Ban Ki-moon visited the Havana based Latin American School of Medicine (ELAM) on Tuesday morning. More than 11,000 doctors from 123 nations have graduated at the center established at the end of the 1990s after Hurricane Mitch caused vast destruction and loss of life in Central America.
"Training doctors and consciousness is the mission of this school," the ELAM rector told the UN general secretary. He noted that the school currently has 1015 students, although it has a classroom capacity for 4,000, reported Cubadebate.
Ban Ki-moon thanked Cuba for what he called "a great contribution to be in the main line of health in the world, and be at the forefront of South-South cooperation." He added, "I have seen a common factor in various remote communities: Cuban doctors or  doctors trained in Cuba who are there helping to save lives."
"Cuba has a long history of cooperation. Cuban doctors are the first to arrive and the last to leave. Cuba can teach the world about your health system based on primary care, with significant achievements as a low infant mortality, increased life expectancy and universal coverage," said Ban.
"They were in Haiti facing the challenges of cholera, a disease that in the XXI century should not be a death sentence because it is preventable and curable. Cuban doctors have taken the lead in the effort, as in the Operation Miracle program that despite returning vision, has given us a new vision of the world of generosity and solidarity. We are all one, humans and brothers and sisters. Health has to stop being the privilege of a few to become right of many," he said.
Ban Ki-moon is in Cuba as of Sunday to attend the Second Summit of the Community of Latin American and Caribbean States (CELAC), taking place Tuesday and Wednesday in Havana.