Both Maduro and Guaido Claim Army Support in Venezuela
By Sinikka Tarvainen dpa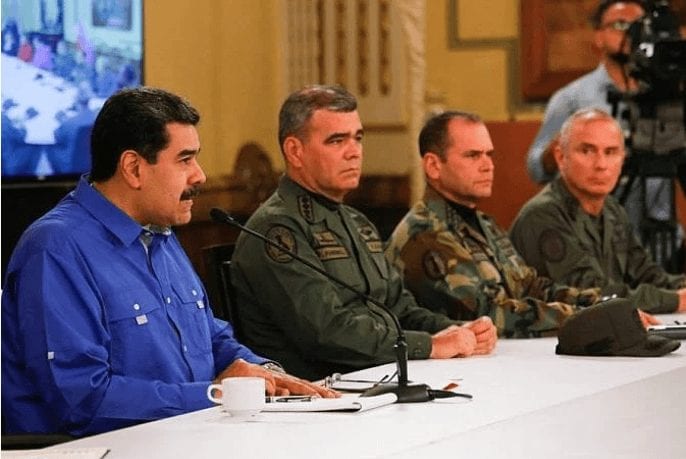 HAVANA TIMES – Venezuelan opposition supporters clashed with security forces around Caracas on Tuesday, amid clouds of tear gas and the sounds of shots ringing out, after the government said it had put down a coup attempt by opposition leader Juan Guaido.
Sixty-nine people received medical treatment in the pro-opposition Chacao area alone, its mayor Gustavo Duque said on Twitter.
The rights group Human Rights Watch tweeted that it was "concerned about the fate of at least 25 people detained by security forces."
Protesters attacked army vehicles and stoned soldiers on motorcycles, while unknown people were reported to have fired shots from the Transport Ministry in Chacao. Colombian broadcaster RCN showed footage of a military vehicle hitting a crowd.
Protests were also reported in numerous other regions of the country.
Defense Minister Vladimir Padrino said the army had quelled an "insignificant" coup attempt and that 80 per cent of the soldiers participating in it had voluntarily withdrawn.
Padrino also said that an army colonel had been wounded in the neck during clashes.
Guaido had earlier claimed support of part of the military after it allegedly released opposition leader Leopoldo Lopez from house arrest.
It was not clear how many soldiers at La Carlota air base had joined forces with Guaido. Broadcaster 24 Horas showed footage of soldiers who said they had been "cheated" to join the group.
Guaido later addressed thousands of supporters in Caracas, saying that the army was no longer behind the "dictator," President Nicolas Maduro.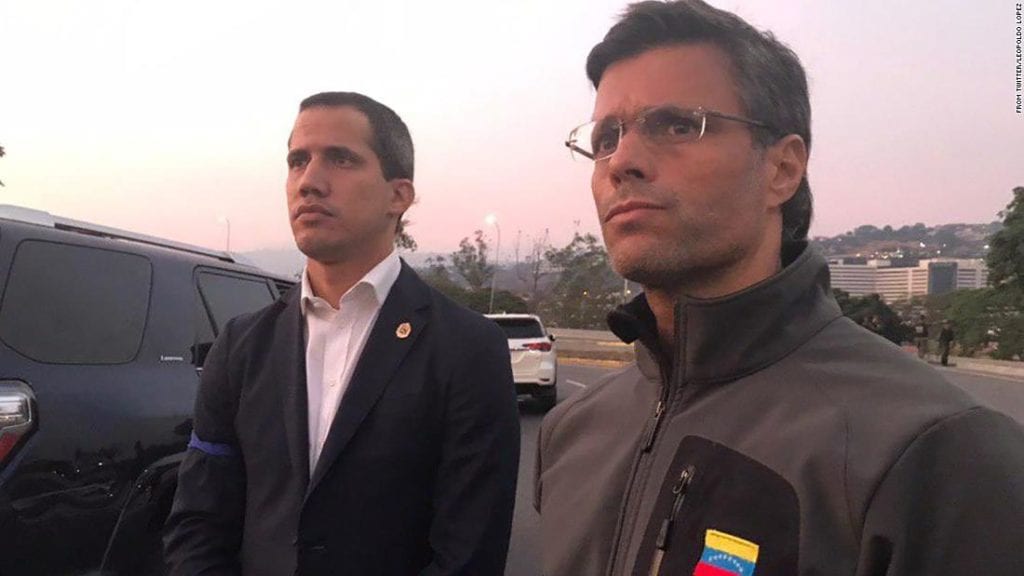 US National Security Adviser John Bolton and Guaido's US envoy Carlos Vecchio denied that the opposition had attempted a coup.
"This is not a military coup. This is a constitutional process led by the Venezuelan people under the leadership of a civilian, the interim president of Venezuela Juan Guaido," Vecchio told reporters.
Soldiers wearing blue bands joined protesters near La Carlota. The bands signalled "a new beginning," one soldier told broadcaster NTN24.
However, Maduro tweeted that army commanders had assured him of their "total" loyalty, while Padrino reported "normality" at all military barracks and bases.
Earlier on Tuesday, Guaido had announced that the "final phase" of a plan to oust the president had begun.
Lopez, who has been under house arrest since July 2017, said in a Twitter post that he had been rescued by the military.
Chilean Foreign Minister Roberto Ampuero said he then sought refuge at the Chilean embassy, but Venezuelan opposition lawmaker Gaby Arellano said he was no longer at the embassy and was not seeking asylum in Chile.
Guaido has been recognized by more than 50 countries as Venezuela's interim president, including the United States.
He has been trying since January to topple Maduro, who won a second term in a disputed election last year and has presided over an economic meltdown.
Maduro has been able to hang on to power thanks to the support of the vast majority of the army, though more than 1,000 soldiers have defected to Colombia.
Brazil on Tuesday granted political asylum to 25 Venezuelan soldiers who sought refuge in its embassy in Caracas, according to local media reports.
Venezuelan Foreign Minister Jorge Arreaza and Bolivian President Evo Morales accused Washington of being behind the alleged coup attempt.
US President Donald Trump threatened Cuba with "a full and complete embargo" and "highest-level sanctions" unless it withdrew its soldiers from Venezuela.
Cuban Foreign Minister Bruno Rodriguez said Cuba had no troops in Venezuela. He called Bolton a "a pathological liar" who "misinforms" Trump.
US Secretary of State Mike Pompeo said Maduro had been preparing to leave Venezuela, with "an airplane on the tarmac" on Tuesday morning, but that Russia had advised him to stay.
The presidents of Colombia, Chile, Argentina, Brazil, Paraguay, the Lima Group of American countries and the secretary general of the Organization of American States expressed their support for Guaido.
Turkish President Recep Tayyip Erdogan, whose government has backed the Maduro regime, said: "Those who attempt to appoint a post-modern colonial governor in Venezuela should know that a country is only governed by democratic elections."
The European Union called for "a political, peaceful and democratic way out" and urged "the utmost restraint to avoid the loss of lives," while pledging to continue working for "a reinstatement of democracy" in Venezuela.