Bradley Manning Not Guilty of Aiding the Enemy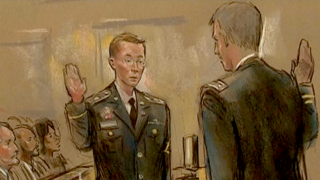 HAVANA TIMES — Bradley Manning has been found not guilty of aiding the enemy. He has been found guilty of five espionage charges.
Watch the Democracy Now! special live broadcast of the Bradley Manning verdict, originally broadcast at 1pm EDT. We interviewed journalists, activists, scholars and more.
Today's verdict follows just three days of deliberation in court martial of Army whistleblower Bradley Manning for the largest leak of classified information in U.S. history. Manning faces up to life in prison for the most serious of the more than 20 charges against him — aiding the enemy — after he leaked more than 700,000 documents to WikiLeaks in an attempt to spark a national debate about U.S. foreign policy. He has pleaded guilty to 10 of the charges which could carry up to 20 years in prison.
After nearly two months of trial at Fort Meade, Maryland, the judge, Colonel Denise Lind, said she plans to announce her verdict at 1 p.m. EDT today. After the verdict, the trial enters the sentencing phase where both the prosecution and defense will present more evidence and arguments.
Join the discussion by using the hashtag #DNlive on Twitter to submit comments, photos and videos, sharing your voting day experiences and reflections on our Facebook page or sending email updates from your polling place and to [email protected] with "election" in the subject line.
For minute-by-minute coverage of the situation, we have created a Twitter list of journalists and organizations following the verdict. Tweets from @democracynow/bradley-manning