Brazil Court Raises Lula's Sentence to 17 Years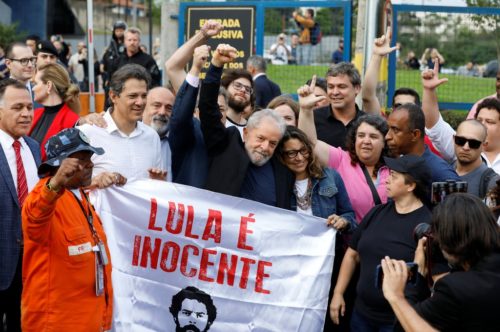 HAVANA TIMES – A Brazilian court on Wednesday upheld a corruption conviction against former president Luiz Inacio Lula da Silva, who was released from prison earlier this month, reportó dpa news.
The regional federal court in Porto Alegre also raised Lula's June sentence for graft and money laundering in relation to a house he was using in Atibaia near Sao Paulo from 12 and 11 months to 17 years.
Prosecutors had argued that the house was renovated by the corruption-tarnished construction giant Odebrecht and two other companies in exchange for contracts with the state oil giant Petrobras.
Lula, who denies wrongdoing and claims corruption cases against him are politically motivated, can still appeal.
In April, the former president had already been handed a 12-year jail term, later reduced to 8 years and 10 months, on similar charges after being found guilty of corruption and money laundering in connection with the renovation of a beachside penthouse he was planning to buy.
Both cases are linked to the massive Lava Jato graft scandal surrounding Petrobras, which has implicated dozens of entrepreneurs and politicians.
Earlier this month Lula was released from prison after 19 months after the Federal Supreme Court decided that an individual's imprisonment based solely on a criminal conviction can take place only after all possibilities of appealing the decision have been exhausted.
Lula's conviction and imprisonment prevented him from contesting the October 2018 presidential election and paved the way for the victory of right-winger Jair Bolsonaro, who appointed Lava Jato case judge Sergio Moro his justice minister.
A working-class president, Lula oversaw strong economic growth and falling inequality during his 2003-2011 rule. His social policies earned him soaring popularity ratings, even as concern grew about corruption in his government.