Brazilian Farmers Unruffled by Amazon Fires
Jair Bolsonaro, Brazil's pro-agribusiness president, has been accused of stoking the Amazon fires by pursuing policies that exploit the region's economic potential. But farmers and experts say the fires are a normal occurrence, and that outrage over the increase in their occurrence is misplaced.
By Martina Farmbauer and Monica Raymunt (dpa)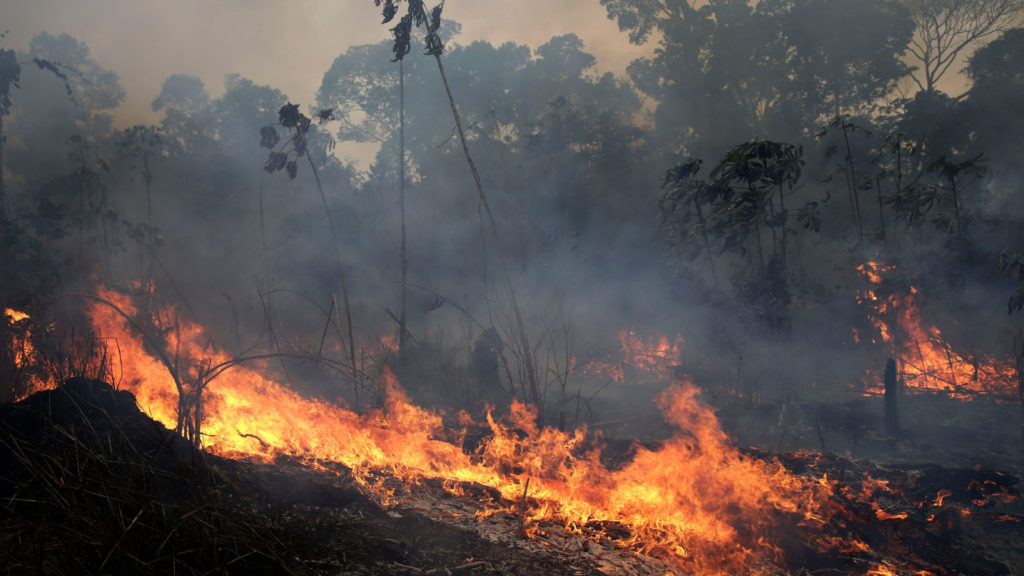 HAVANA TIMES – Evaristo Alves de Souza, a small-scale farmer in in Brazil's northern state of Rondonia, set fire to his field in order to rid it of weeds and leftover vegetation. When the wind turned, the fire raged out of control, leaving him with little recourse but to call the police.
"I clear the land with fire in order to live," Alves says. Lacking the resources to purchase expensive farming equipment, he says fire is the easiest and cheapest way to clear his field and prepare it for sowing.
As firefighters douse the flames in his field on the outskirts of Rondonia's capital Port Velho, Alves gets a lecture on safety from Joelma Ferreira Bezerra, an inspector with the environmental authorities.
Gritting his teeth, he listens as she tells him to be careful. Alves is hit with a fine but is free to go.
Brazil is currently seeing its highest number of fires in years. More than 87,000 fires have been registered since January – 76 per cent more than a year ago during the same period.
Many of them have been set by farmers in areas that had already been deforested in order to create new grazing land for cattle and new fields to cultivate soy beans.
"This is the usual procedure in the region," notes Thiago Castro de Oliveira, the coordinator of the Agriculture Chamber of Porto Velho.
But critics accuse President Jair Bolsonaro of creating a political climate in which farmers are emboldened to practice slash-and-burn without consequence.
"The government wants that," says Gilson da Costa Silva of Porto Velho University. He explains that the "banditry of agribusiness" is exploiting the political moment in order to expand the boundaries of agricultural production at the expense of the rainforest.
Bolsonaro came to power with the support of the cross-party BBB caucus – the "Beef, Bullets and Bible" bloc of farmers, security hardliners and evangelicals in parliament. Brazil's cattle ranchers and soy bean barons regard the ex-military man as a natural ally who is now shutting both eyes to what is happening in the Amazon region.
Since he was elected in October last year, Bolsonaro has appointed the former legal director of an agribusiness group to head the Agriculture Ministry, limited the powers of environmental agencies and questioned the need to protect areas for indigenous communities.
On the day that his field was burning, Cleosson Ramos Lima was not at home. A mason who was working in his house at the time called him to say that a fire had broken out nearby.
"When I got there an hour later, it was already too late," Ramos says. His manioc plants, banana shrubs and palm trees had already been consumed by the flames.
Ramos sits on the terrace of his house in the Comunidade Terra Santa near Porto Velho, staring at the destruction.
"That's just the way it is here," Ramos says. "People clean up all around their property, remove weeds and undergrowth and then set fire to it all. That is the culture in Rondonia."
But it isn't just small-scale farmers setting fires in the Amazon.
The vast and sparsely inhabited region has long attracted the interests of large land owners, mining and logging companies, gold prospectors, energy firms and agro-industrial conglomerates.
"This isn't anything cultural," Costa Silva says. "It is organized crime."
There have always been fires in Brazil during the dry season, which runs for several months through to September. Given that that the blazes have been more widespread in past years, many Brazilians cannot understand the worldwide uproar about the fires in the Amazon region.
One of them is Luiz Carlos Estraviz Rodriguez, professor of forest management at the University of Sao Paulo, who says that the international reaction to the fires has been disproportionate.
"We have to remember that this is the dry season, when fires can spread very easily, and the fires we have seen are on the frontier, in areas that have been opened recently for agriculture," he said.
The debate about the fires in the rainforest is a highly emotional one, notes Ildo Luis Sauer, professor and former director of the Institute of Energy and Environment at the University of Sao Paulo.
"The Amazon has become a battlefield for several groups with diverging views on geopolitics, on society, and on science," Sauer says.
"What we are seeing today is a huge fight among people who wanted to clear everything without being conscious of the consequences, and others who want to prevent everything, including environmentally responsible activities," Sauer says.
Cleosson Ramos Lima, the manioc farmer, says he won't be planting next year out of fear that a fire may again destroy his harvest. His new plan, he says, is to earn money from solar energy.
"We are doing our part and try to protect ourselves," he says. "But if a spark flies, then that's it."