Castro and Obama meet in New York (Video)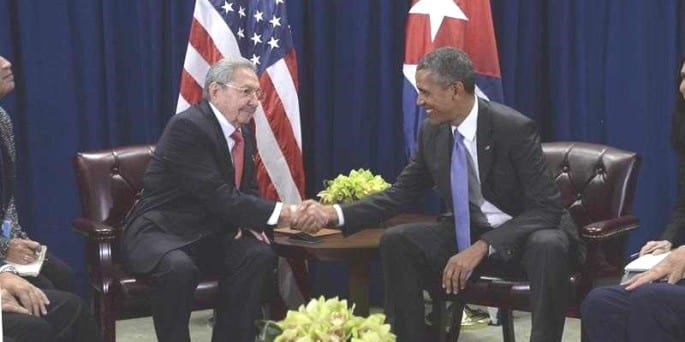 HAVANA TIMES – Presidents Raul Castro and Barack Obama met on Tuesday (Sept. 29) on the sidelines of the United Nations General Assembly in New York City. It is the first meeting on U.S. soil between a Cuban and U.S. president in 60 years, reported ABC News. And the last Cuban president to do so was not Fidel Castro.
Obama and Raul Castro first met in April at the Summit of the Americas in Panama – the first bilateral meeting between each country's president since the revolution. They have also spoken on the phone three times, the first time following the Dec. 17 announcement to restore diplomatic ties between the two countries.
"The meeting between Castro and Obama sustains the momentum of the historic rapprochement they are pursuing," Peter Kornbluh, author of "Back Channel to Cuba," told ABC News. "With two meetings and three phone conversations in the last nine months, they are actually building a relationship that will benefit their respective nations."
The U.N. General Assembly is expected to vote for the 24th time to condemn the U.S. embargo against Cuba. Of the 193-nation assembly, last year 188 countries voted for the nonbinding resolution, with only the United States and Israel voting against it. There is speculation that both the U.S. and Israel may abstain from voting this year – making it a clean sweep.