Castro Says US Backs Honduras Coup
by Circles Robinson
HAVANA TIMES, July 17 – Former Cuban President Fidel Castro accused the US Department of State on Thursday of supporting the military coup in Honduras that toppled President Manuel Zelaya.
In one of his frequent newspaper columns, Castro said the negotiations in Costa Rica are a ploy by Washington to give time to the coup leaders to consolidate their position.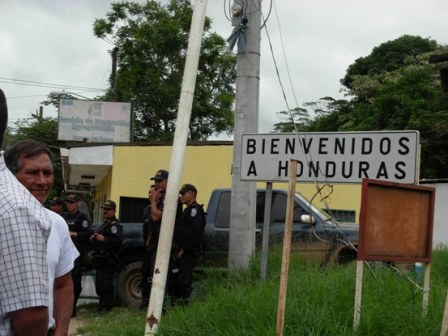 Fidel Castro further noted that the Soto Cano military base -which belongs to the US- is the principal point of support for the coup.  The facility is located 100 kilometers from the Honduran capital Tegucigalpa.
The next round of talks mediated by Costa Rican President Oscar Arias is scheduled to take place on Saturday.  Meanwhile, President Zelaya has said he plans to enter Honduras via an undisclosed point.
Fidel's Castros full commentary on the Honduras situation: What Should Be Demanded of the United States.
SOCIAL ALLIANCE BLOCKS HONDURAN BORDER
Approximately 100 activists of the Nicaraguan Social Movement blocked all commercial activity on the Nicaraguan-Honduran border for over four hours on Thursday.
The action was part of a series of border closures carried out by civic groups in the other Central American countries in support of the resistance in Honduras to the June 28th military coup.  The organizers said the blocking of commerce is geared to up the pressure on the business people involved in the coup.
With protests escalating inside Honduras the de facto government of Roberto Micheletti has reinstated a curfew to try and hamper public demonstrations supporting Zelaya.