Chantal Dissipates Before Cuba
But could still bring heavy rains to several eastern provinces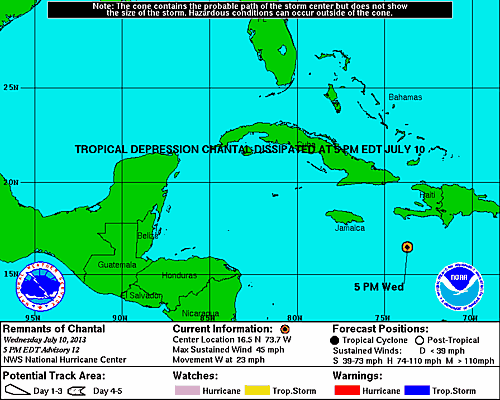 HAVANA TIMES — Tropical Storm Chantal is no longer as it dissipated into a degraded tropical wave on Wednesday afternoon, reports the National Hurricane Center in Miami.
None the less, the remnants of the storm could still bring considerable rains to central and eastern Cuba, leading the Civil Defense authorities to issue a notice regarding the precipitation that could begin falling by tonight.
A storm watch phase was declared for the provinces of Guantanamo, Santiago de Cuba, Granma, Holguin, Las Tunas and Camagüey
Meanwhile, the Cuban Weather Service (INSMET) released its latest advisory on Chantal at 6:00 p.m. (EST).
INSMET said that heavy rains, locally intense, could fall especially in the mountainous zones of Guantanamo, Granma and Santiago de Cuba provinces. Winds there could reach 50 to 60 k/mh with gusts of 75 km/h.
A new report from INSMET is due at midnight.