Chavez in Cuba, Supporters Rally in Caracas
By Circles Robinson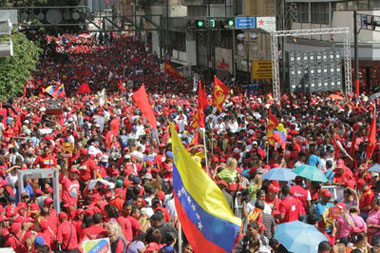 HAVANA TIMES — Ailing Venezuelan President Hugo Chavez was unable to attend his inauguration Thursday in Caracas but thousands of his supporters showed up at a rally to show support for their recently reelected leader.
They wanted Chavez to know that his Bolivarian Revolution will continue on track and they are hopeful that he will recover and be able to continue as its supreme leader.
Meanwhile, Chavez remains in his Havana hospital where he has been receiving care since December 11. On that day he underwent his fourth cancer operation in a year and a half, all in the same "pelvic region" (the only description provided). This time he has suffered a setback in his recovery due to an acute breathing deficiency.
Several Latin American presidents and other top officials were also on hand in Caracas to show their support for the person they consider a regional leader but who has not been seen or heard from in the month since his operation.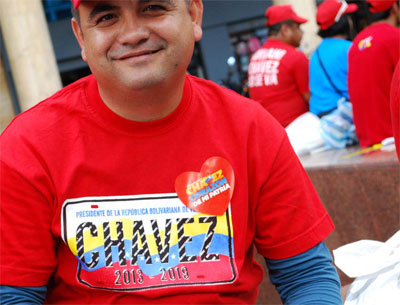 Cuban VP Miguel Diaz-Canel told the sea of Chavez devotees that "we Cubans support our brothers and sisters of Venezuela," reported TeleSur TV. He added that pro-US opposition "doesn't want to admit" that Chavez just won his reelection (October 7). The VP recalled that "Venezuela is a key country in the building of Latin American integration."
Uruguayan leader Jose Mujica said, "if tomorrow President Chavez isn't around, the people must by united in peace and effort." He observed that in the huge pro-Chavez rally in Caracas there were "many feelings that words can't express," noted TeleSur.
Nicaraguan President Daniel Ortega, whose government is extremely dependent on assistance from Venezuela, warned those at the rally what could happen if they fail to defend their constitution and government headed by Hugo Chavez.
"I come from a bloodied region. Hundreds of thousands of Latin Americans gave their lives in this battle," said Ortega, as he praised Chavez for attaining power through peaceful means.
Bolivian President Evo Morales also spoke to the crowd gathered before Miraflores Palace, the place where Chavez usually gives his energetic speeches. He described as "enviable" the number of people gathered in defense of the Bolivarian Revolution (which takes its name from the South American independence leader Simon Bolivar).
Morales said the best tribute that can be given to Hugo Chavez is "people's anti-imperialist and anti-capitalist unity."