Chavez "Stable" with Breathing Problems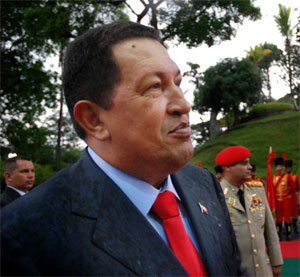 HAVANA TIMES — Venezuelan President Hugo Chavez remains "stable" as he continues to be treated for breathing difficulties resulting in the post-operation phase of his December 11 cancer surgery in Havana, informed the government on Monday evening.
In an attempt to combat rumors of Chavez deteriorating heath, three days before his inauguration date, Minister of Communications Ernesto Villegas said the president is receiving "around the clock, rigorous treatment" by his medical team in Cuba.
Chavez won reelection with 55% of the vote on October 7th and was scheduled to be sworn in for another term this Thursday. VP Nicolas Maduro has taken charge of most government matters since the president's operation.
For more on the possible scenarios if Chavez is unable to assume his responsibilities see:
Venezuela Without Chavez, What to Expect
The Health of Hugo Chavez, Oil and Cuba