Chavez to Cuba for Chemotherapy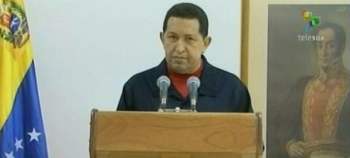 HAVANA TIMES, July 15 — Venezuelan President Hugo Chavez will travel to Cuba this weekend for chemotherapy treatment, reported Telesur TV.
Chavez was operated on June 20th in Havana for the removal of a cancerous tumor and returned to Venezuela on July 4.
After a send off for visiting president-elect Ollanta Humala of Peru, Chavez told the press on Friday in Caracas he had asked the president of the Venezuelan parliament for authorization to travel to Cuba to continue his post-op treatment.
"I am going to continue with the road to recuperation…  This second phase will begin in the coming days with the application of chemotherapy," said Chavez.
"Now I must fulfill the treatment plan designed by the doctors" he added, "in order to recover my health."
The exact details on Chavez' cancer operation, including the location of the tumor extracted and subsequent medical reports have not been made public.