Chavez Walks and Tweets from Cuba
by Circles Robinson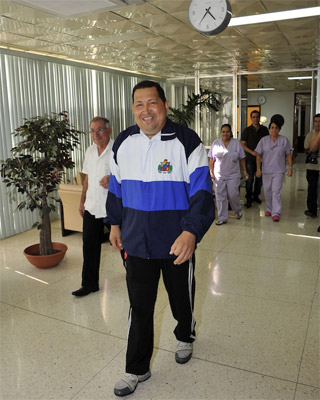 HAVANA TIMES, March 3 — Venezuelan President Hugo Chavez is in his post-operation recovery in Cuba, taking walks around the hospital and communicating to his country and the world via telephone and Twitter.
Chavez was operated on Monday to remove a new growth in the same "pelvic area" where he had a large tumor removed last June, followed by four sessions of chemotherapy.
The charismatic leader exuded optimism on his recovery and told Venezuelans he was eating a good diet and taking walks in the hospital's hallways.
Chavez, 57, was visited at the hospital by former Cuban President Fidel Castro, his mentor, who has repeatedly told him to prioritize his health and be a good patient.
"I'm very happy, well and rapidly recovering," said Chavez in a phone communication broadcast during a meeting in the Venezuelan state of Zulia where 192 new houses were being handed over to their owners.
Meanwhile, in the aftermath of Chavez' new surgery,  Cuban specialists will be studying the tissues to determine whether cancerous cells are present.  The study will determine the next course of treatment.
To see more photos of Hugo Chavez in his Havana hospital visit Cubadebate.cu.