"Che" Monument in Santa Clara, Cuba Welcomes Visitor # 4 Million
Angel Freddy Perez Cabrera  (granma.cu)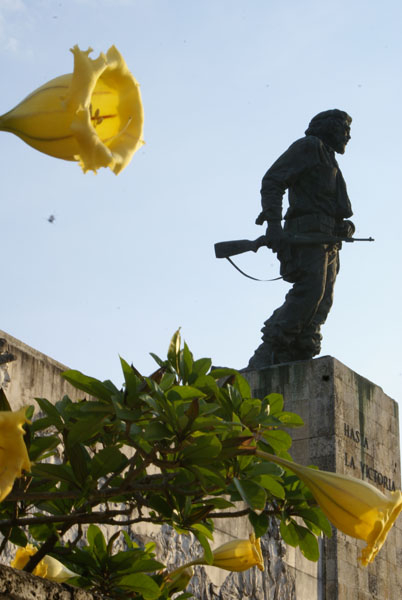 HAVANA TIMES — Almost as a confirmation of the awesome force represented by the figure of Che Guevara, who continues to point the way for thousands of people on the planet after nearly 50 years since his capture and murder, this Thursday the monument that bears his name in Cuba's city of Santa Clara reported it had received exactly four million visitors since its founding in December of 1988.
Elaine Faulner, an English tourist who had the honor of completing the figure with her visit, told the local press she felt fortunate on hearing the news, which caught her by surprise and filled her with joy.
"I'd been hearing about Che since I was small, but I'd never had the chance to come to this place, which is both impressive and moving," said Elaine after receiving a gift from management.
Referring to her visit to Cuba, she said the island had struck her as a marvelous country, full of pretty places and an agreeable and hospitable people. "I take away many nice things from here, particularly this keepsake from the Che Guevara monument," the tourist added.
According to Yaneski Gutierrez Fernandez, an expert employed by the complex, of the total number of visitors the monument has seen, 2,400,948 are foreign. Most of these foreign visitors come from Argentina, Italy, Canada, Spain, Germany and France. Most Cuban visitors come from Villa Clara and Havana.
Yaneski also pointed out that, though the flow of visitors has always been constant, the number of visitors began to grow sharply after the remains of Che Guevara and his comrades in arms were brought back to Cuba in October of 1997, as the 3,812,632 visits to this sacred site since demonstrate.
She added that this year has been one of the busiest, reporting more than 160,000 visitors as of yesterday, 35,637 of whom arrived in March, setting a record for the month.