China Takes Its Turn in Cuba
HAVANA TIMES – President Raul Castro met on Saturday in the Cuban capital with Chinese Prime Minister Li Keqiang, to promote a new dynamic to the relations between the two countries, reported dpa news.
Li's presence is the third high-level visit during the week, preceded by the  president of Iran  and prime minister of Japan.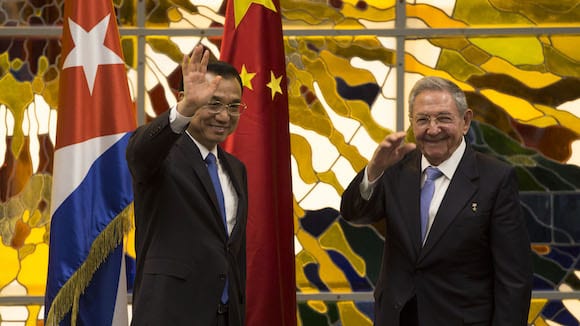 On the first day of his two-day visit, Li Keqiang was received with military honors at the Palace of the Revolution in Havana and later held a closed-door meeting with the Cuban president, according to state television images.
This is the first official visit to the island by a Chinese premier since the two countries established diplomatic ties in 1960. Chinese President Xi Jinping visited Cuba in 2014.
One of the purposes of the trip is "to strengthen high-level exchanges" with the Cuban authorities to continue providing support on issues of mutual interests, Li said in an article published Saturday by the official newspaper "Granma" shortly prior to his arrival to the island.
During Li's stay in Havana, Cuban and Chinese authorities signed 35 agreements in key sectors such as technology, renewable energy, industry and environmental protection.
China is the second largest trading partner of the island, surpassed only by Venezuela, and last year the two countries had an exchange which reached US $1.6 billion. In addition, China is the main source of credit for Cuba.
Li's trip to Cuba comes a day after the visit of Japanese Prime Minister Shinzo Abe, who also met with Raul Castro.  During a press conference at the end of his visit, Abe stressed the need for China to support sanctions against North Korea for its nuclear tests.