China's Top Military Officer Visits Cuba after US Tour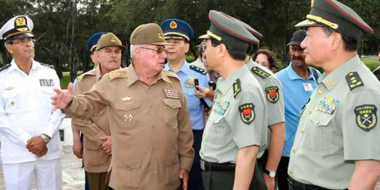 HAVANA TIMES — Col. Gen. Fang Fenghui, Chief of the General Staff of the Chinese Army, arrived in Havana at the head of a delegation "as proof of the ties of solidarity between China and Cuba," Havana Radio reported Sunday.
The Chinese People's Liberation Army is the world's largest military body.
Fang is the guest of Army Corps Gen. Alvaro López Miera (shown in photo above receiving Fenghui), Chief of the General Staff of the Revolutionary Armed Forces, who accompanied the Chinese visitors to the Cacahual Monument, which holds the remains of independence hero Antonio Maceo. There, Fang placed a memorial wreath.
The Chinese guests also toured the Rescate de Sanguily Tank Unit, where they were welcomed by the unit's chief, Brig. Gen. Ignacio Borjas.
Havana Radio did not describe the specific reason for Fang's trip or say how long the Chinese delegation will be in Cuba.
Fang flew to Havana from Washington, where he ended a five-day visit to the United States. In San Diego on Tuesday (May 13), he toured the aircraft carrier USS Ronald Reagan and the combat ship USS Coronado. He also observed Marine training at Camp Pendleton and met with the commander of the U.S. Pacific Command, Navy Adm. Samuel J. Locklear 3rd.
In Washington on Thursday (May 15), he visited the National Defense University.
During his stay in the capital, Fang met with Vice President Joe Biden, Deputy Secretary of State William Burns and Deputy Defense Secretary Bob Work.
At the Pentagon, he held talks with Army Gen. Martin E. Dempsey, chairman of the Joints Chief of Staff, and wrapped up his tour at the U.S. Army Forces Command in Fort Bragg, N.C.
Fang was accompanied by Guan Youfei, chief of the foreign affairs office of the Chinese Defense Ministry, who told journalists in New York City that the delegation's visit was intended to "implement the important consensus reached by Chinese President Xi Jinping and President Obama on building a new Sino-American relationship based on mutual respect and win-win cooperation."