Colombia: Large Anti-Government Protests in Many Cities
By Sinikka Tarvainen (dpa)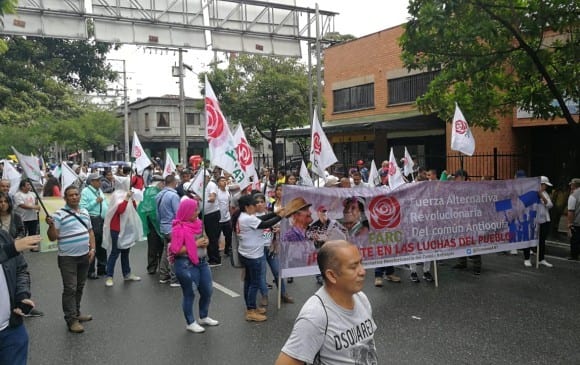 HAVANA TIMES – Colombians around the country took to the streets on Thursday in anti-government protests that turned violent in the capital, Bogota.
Thousands of people marched in central Bogota to demonstrate against President Ivan Duque's policies which, they said, erode workers' rights and the education system.
Caracol radio put the number of protesters at nearly 1 million in the entire country.
Protest rallies were also held in the cities of Cali, Medellin, Barranquilla, Cartagena, Ibague, Pereira, Cucuta as well as smaller municipalities.
Trade unions had called the rallies to protest the government's National Development Plan, which still needs to be approved by Congress.
Demonstrators said the plan would leave more employees with short-term contracts and low pay and deprive schools and universities of resources.
Indigenous demonstrators said the plan would undermine their rights of determination over their own territories.
The government rejected such criticism, saying the National Development Plan would reduce social inequality.
Protesters also accused Duque of not respecting all the provisions in the previous government's 2016 peace deal with the former guerrilla group FARC, saying his policies jeopardized the ongoing peace process that followed 52 years of conflict.
The government was also not doing enough to protect human rights activists, environmentalists and other community leaders, according to the protesters.
More than 150 such leaders were assassinated last year, according to a figure given by the non-governmental organization Somos Defensores.
Duque, who took power in August 2018, had already faced protests by students, teachers and indigenous people.
Some violence occurred
Masked demonstrators tore away nets protecting the metropolitan cathedral, which flanks central Bolivar Square, in Bogota and painted slogans on its walls.
They also threw stones and other objects at riot police, who responded by firing tear gas.
Thirty-five people were arrested and 14 injured, Caracol reported.
Police also clashed with students at the entrance of Bogota's National University.
Duque tweeted that he condemned the acts of "vandalism" and that those responsible for them would face justice.