Colombian Gov. Fails to Reach Agreement in First Meeting with Protest Organizers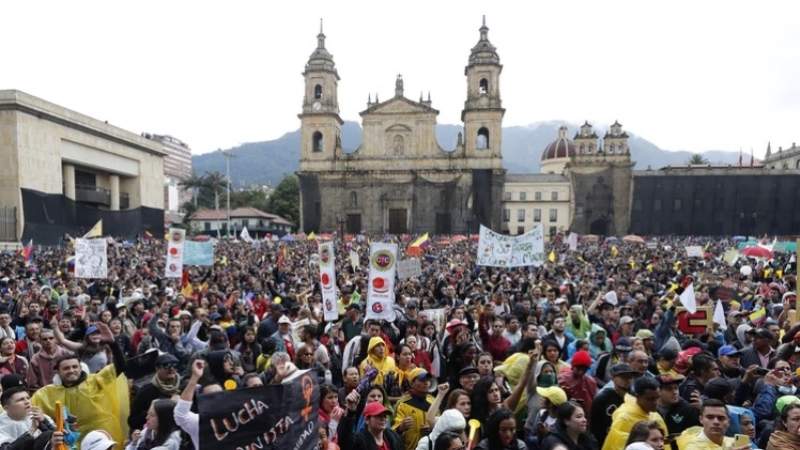 HAVANA TIMES – The Colombian government on Tuesday failed to reach an agreement at its first meeting with protest organizers, who maintained a call for new marches in a series of demonstrations that have continued for nearly two weeks.
Government representatives and the National Strike Committee disagreed on the extent to which other economic and social sectors should be involved in the talks, said Diego Molano from the president's office.
The committee also requested that the riot police ESMAD not be present during nationwide rallies planned for Wednesday, but the authorities said they had to protect citizens from eventual violence and could not give such guarantees, Molano added.
The protests started on November 21, when about 250,000 people across the country demonstrated against economic reforms, a funding shortage for education and killings of community leaders by armed groups.
Smaller rallies have taken place daily since then, and nationwide protests were staged again last week.
President Ivan Duque's government on Monday accepted the strike committee's request for exclusive talks. However, it wants to place them in the context of a parallel "national dialogue" with other sectors.
The committee, which includes trade unions and civil society groups, has refused to call off Wednesday's marches. It is due to meet government representatives again on Thursday.
Protests have occasionally turned violent, leading to clashes, looting and acts of vandalism.
The death toll on Monday rose to at least five, when a young demonstrator died from injuries caused by explosives he was carrying in Medellin.
With the protests, Colombia joined a wave of civil unrest in Latin America that has swept countries such as Ecuador, Chile and Bolivia.