Colombian President Loses Bid to Modify Peace Tribunal
By Sinikka Tarvainen, dpa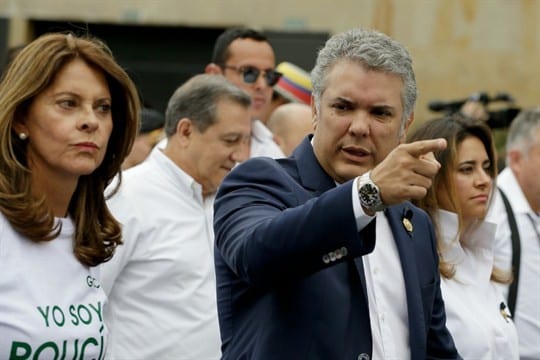 HAVANA TIMES – Colombia's Constitutional Court on Wednesday validated Congress's rejection of President Ivan Duque's proposals to modify the country's post-conflict justice system, in what was seen as a heavy defeat for the head of state.
Duque regards the Special Jurisdiction for Peace (JEP) as being too lenient on former guerrillas, and had proposed legislative changes such as tougher sentencing for war crimes and easing the extradition of ex-rebels suspected of drug trafficking.
The Chamber of Representatives rejected the proposals in early April.
The Senate also rejected them nearly a month later, but its members were unable to agree on whether the rejection was approved with the sufficient number of votes, and referred the decision to the Constitutional Court.
Duque said he would respect the court's decision, which was taken with seven votes against one.
However, the president said he would continue defending "peace with justice."
The JEP was created as part of a 2016 peace deal with the guerrilla movement FARC following 52 years of conflict.
The arrangement foresees milder punishments for former guerrillas and soldiers who help the tribunal establish responsibilities for conflict-related crimes.
The transitional justice system has been at work since January 2018, but Duque had not signed the legislation regulating it, something that the Constitutional Court's ruling will now force him to do.
The ruling was a relief for government critics who had expressed concern that Duque's attempts to modify the JEP could undermine the peace process with FARC.
The Supreme Court meanwhile ordered the release of Jesus Santrich, a former FARC commander at the center of a judicial saga related to a US request to have him extradited.
Santrich, who is less well known by his real name, Seuxis Hernandez, was arrested more than a year ago on charges of planning to smuggle cocaine to the United States.
Nearly two weeks ago, he was released after the JEP said there was not enough evidence to justify his extradition.
But immediately after his release, Santrich was re-arrested after prosecutors said they had found new evidence against him.
Colombia's 2016 peace deal turned FARC from a guerrilla movement into a political party and guaranteed it 10 seats in Congress. One of them went to Santrich, who could not occupy it because of his arrest.
The Supreme Court said on Wednesday that it agreed with an objection presented by Santrich's lawyers against his imprisonment, local media reported.
The Supreme Court also said that because of Santrich's high status as a congressman, the court itself would hear his case.
Duque said he respected the independence of the judiciary, but that Santrich was a "a mafia member." The Inspector General's Office requested that the Supreme Court order his arrest.
The peace deal signed by Duque's predecessor, Juan Manuel Santos, led to the demobilization of about 7,000 FARC guerrillas.
It did not, however, bring peace to the country, where thousands of FARC dissidents and other rebels, as well as criminal groups, remain active.