Correa Returns to Ecuador After Visiting Chavez and the Castros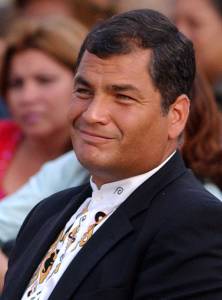 HAVANA TIMES — Ecuadorean president Rafael Correa returned home from Cuba after visiting his counterpart Hugo Chavez, who is about to undergo another cancer operation, and Cuban leaders Fidel and Raul Castro, reported DPA news.
Correa returned to Quito on Monday night after unexpectedly traveling to Havana to show his support for Chavez in light of his "serious health problem."
Chavez, 58, arrived in Cuba early Monday morning to undergo a fourth operation for cancer in his "pelvic region". The Venezuelan leader said on Saturday that it was "absolutely essential" to have another surgery and he mentioned for the first time the possibility of him not remaining in office.
The apparent severity of Chavez's disease unleashed a wave of solidarity across the continent, though the Venezuelan government has never specified what kind of cancer the president is suffering from.
In the coming hours or days, the Venezuelan leader will have to undergo his fourth operation in 18 months due to cancer. This past the October 7, Chavez won his fourth six-year term, for which he must be sworn in on January 10
In his message on Saturday to announce the recurrence of cancer, the president said his first vice president and foreign minister, Nicolas Maduro, should take his place in case "any circumstances" prevented him from remaining in office.
Although there was no official information, it's speculated that Chavez is receiving treatment at the Medical Surgical Research Center (CIMEQ) in Havana, Cuba's best-equipped hospital.
Raul Castro's government has not commented officially on Chavez's disease to date, but has instead kept the condition of the Venezuelan leader completely confidential since he began being treated for cancer on the island in mid-2011.