Cuba's Bell in Remarkable HR Feat
By Peter C. Bjarkman*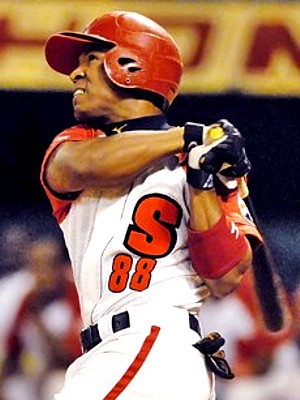 HAVANA TIMES, Nov. 6 – What an incredible Opening Day! What a way to start a new baseball season. And what a difference a single year makes. Tuesday's opening round of full-schedule action in Cuban National Series #49 produced one of the most truly remarkable individual batting displays in baseball history-a pair of grand slams by the same batter in the first inning of the year's first game.
And we are not talking here about Cuban baseball alone but about the organized game as it is played in any of the sport's highest professional leagues.  Double grand slams by a single batter in the maiden "episodio" of the year?  How much fun is that! Even for those among us who are such traditionalists that we think baseball would be better off if fences were extended and home runs were banned altogether.
Alexei Bell-National Series slugging sensation two years back and offensive hero of the August 2008 Beijing Olympiad-Tuesday (November 3) became the first player in Cuban League history to smack two grand slam home runs within a single inning during Santiago's bizarre mercy-rule-shortened 24-0 slaughter of Oriente League rival Camagüey.
Bell thus matched a rarer-than-rare feat accomplished on only one single occasion in more than a full century of major league play.
And such a Herculean feat is not known to have occurred anywhere else either in big-time competitions-not in the first class Japanese leagues, other Asian professional circuits, the North American minor leagues, or the Caribbean winter leagues.
Nor has such a thing ever been witnessed in IBAF-sponsored international tournament play, and probably not in North American youth leagues either. The odds against even reaching the plate twice with the bases jammed in the same frame are themselves astronomical enough to make this baseball's most unlikely occurrence.
Bell-who earlier in his brief career snacked a similar pair of single-inning blasts during a 2007 playoff game, then later authored three base hits in a single frame during yet another 2008 post-season contest-now truly stands alone among ball players boasting remarkable and unparalleled one-day offensive explosions.
Bell's two four-run homers and resulting eight single-inning RBIs replicated the near-impossible feat turned in by St. Louis Cardinals journeyman infielder Fernando Tatis a decade earlier; Tatis turned the same trick on April 23, 1999 in a game with the Los Angeles Dodgers. Both Tatis blasts were struck off Korean right-hander Chan Ho Park, still active with this year's National League champion Philadelphia Phillies.
But in at least several respects Bell's pair of unique circuit blasts now outstrip those struck earlier by Tatis in Dodger Stadium. For starters, the Cuban slugger's record-setting round trippers were not only hit in the opening game of the season (the first coming off former national team fixture Vicyohandry Odelín and the second off reliever Dunieski Alvarez), but they transpired in the game's opening inning, and thus also in the slugger's first two plate appearances of the entire year.
And (unlike Tatis on his big day) Bell was hardly finished for the afternoon. On his third trip to the plate two innings later he slapped a single to left center, plating both Luis Navas and Héctor Olivera. In the fifth frame Bell walked, only to score again ahead of a three-run blast off the bat of teammate Reutilio Hurtado.
And a final trip to the box in the sixth resulted in a two-run double to deep center, thus producing the record dozen RBI total. The Santiago stalwart was also robbed of at least one more at-bat and thus a chance to extend his miraculous run-producing performance by the league's ten-run mercy rule that suspended action after the top of the seventh.
Rebound off Last Year's Tragic Start
This rarest of all slugging feats was indeed sweet and ironic payback for Alexei Bell, who seems to have developed a knack for making sensational headlines in "opening day" contests. One year ago the Santiago star had his season quickly ruined in the traditional lid lifter game with Pinar del Río when he was struck in the eye by a fast ball from Pinar right-hander Yunieski Maya. Bell was coming off a sensational 2007-08 campaign-the first played with the new lighter Mizuno 150 baseball-where blasted a record 31 round trippers and drove home an unequalled 111 runs for the National Series #47 champions.
Both the 30-plus homers and 100-plus RBIs were Cuban League (i.e. National Series) firsts. And in late summer 2008 Bell had also gained considerable international attention as the Olympic tournament batting champion with a lofty .520 average. But any visions of a repeat dream season were quickly scuttled by Maya's errant fastball which left the rising phenom with a case of blurred vision and a more destructive psychological fear that worked against any further aggressive hitting. Batting only .211 at mid-season Bell was left off Cuba's World Baseball Classic roster; a final season's total of only eleven homers (despite a brief hot streak at year's end) also killed any changes of supplanting the likes of Despaigne, Céspedes or Cepeda in the September World Cup lineup.
And to add further insult to the devastating injury, while Bell struggled to regain his form throughout much of last season, Granma's 22-year-old Alfredo Despaigne quickly wiped out the 2008 home run standard (although the 100-plus RBI record still remains untouched).
Overnight it was Despaigne and not Bell who reigned as the Cuban League long-ball sensation.
But unlike Kendry Morales, Maels Rodríguez, Dayan Viciedo, or Santiago teammate José Julio Ruíz, Bell did not abandon the island as soon as his national team prospects began to fade. Such loyalty was destined to be rewarded, and with two big swings of the bat and a little help from Lady Luck, suddenly Alexei Bell is now back front and center in the Cuban baseball spotlight.
Bell's opening afternoon heroics of course established a whole slew of new Cuban League records. The dozen RBI total equaled a league high-water mark established 21 years back by little-heralded Fernando Hernández (playing for Vegueros, that era's league team from Pinar del Río). Hernández reached the record books during a Christmas Day contest in 1988 with Forestales by knocking home an even dozen runs via a barrage that included three homers (one a grand slam) and a triple in the mix.
In addition to tying Hernández, Bell also set a new Cuban single-inning RBI mark (eight) and also equaled Tatis's big league standard in that department. The previous single-inning mark in Cuba was seven, reached on two previous occasions (by Santiago's Evenecer Godinez in 1996 and Fausto Alvarez, again with Santiago, in 2002). Further, this was Bell's second occasion of blasting two homers in a single frame, since he also did so in a 2007 playoff game with Industriales.
Bell's unique playoff feat was equaled last year by Habana's Ernesto Molinet in a quarter-finals match with Isla, and the normally light-hitting Molinet himself also clubbed one grand slam in that unusual frame. While Bell and Molinet are the only Cuban Leaguers to "double-homer" in a single post-season frame, the feat has now been accomplished 26 different times in regular season play on the island. Among the 24 different players involved (Bell and Fausto Alvarez have two apiece) stand such notables as Omar Linares (January 19, 1993 against Isla de la Juventud), future big-leaguer Kendry Morales (February 9, 2002 at the expense of Cienfuegos), and former national team manager Rey Anglada (April 12, 1980 versus Matanzas).
More Historical Comparisons
Extending the list of intriguing historical comparisons, two grand slams in a single game (not inning) has been accomplished only 13 times in the big leagues, the first to do it being Tony Lazzeri (New York Yankees) in 1936 and the most recent being Josh Willingham (Washington Nationals) earlier this past summer. Tatis of course is the only one to anticipate Bell by doing it twice in the same frame. Bell's accomplishment of the two grand slams in a single game ties him with three others for the Cuban mark.
The stunt was first pulled off on the island on January 28, 1968 (NS #7) by Raúl Reyes of Industriales versus Azucareros; it was repeated on March 26 1996 in the special Revolution Cup I short season by Evenecer Godinez (the above-mentioned game in which Godinez set an earlier single-inning RBI standard); and it was also duplicated by Isla's Michel Enríquez on December 23, 2000 (NS #40) at the expense of a pair of unlucky Guantánamo hurlers.
Camagüey starter Odelín didn't last long enough Tuesday afternoon against the 12-run first-inning Santiago uprising to join Chan Ho Park in the game's annals as the only hurlers ever to permit two grand slams to the same batter in the same frame. But Bell does become the second Cuban Leaguer to now boast not one but two double-homer-innings on his hefty resume. The other is another former Santiago Avispas (Wasps) outfielder Fausto Alvarez, a 1990s-era star who now (in his mid-forties) still plays in the Dutch League with the Amsterdam Pirates ballclub.
Alvarez's own pair of two-homer innings transpired in NS #30 (January 5, 1991 versus Villa Clara) and NS #41 (February 10, 2002 against Matanzas). And Bell is certainly the only player in baseball history to own not only two homers in an inning on different occasions, but also a record three hits in a single inning (done back in the post-season of 2008 versus Villa Clara). Bell's three single-frame hits game in the second playoff semifinal game on April 5, 2008, in a 15-run second frame that propelled a memorable 23-12 home club blowout.
Only twice has the three-hit-inning scenario happened in the majors, and both times in the same stadium, Boston's ancient Fenway Park. Gene Stephens pulled it off first in 1953 (on June 18, when he stroked a double and two singles in a 17-run seventh against Detroit's Tigers); Johnny Damon matched the event in 2003 (on June 28, when his single, double and triple in the 14-run first versus the stunned Florida Marlins left him a home-run short of an unthinkable one-inning "cycle").
One interesting footnote here is the fact that Bell's three remarkable single-inning outbursts have all come in the same ballpark, Santiago's Guillermón Moncada Stadium. And they most certainly leave the 26-year-old sensation (born October 2, 1983) entirely in "a league by of his own"-at least among single-inning hitting sensations. No ballplayer in any league or from any era has ever strung together three separate games featuring explosive innings of this type. All three explosions also came during big-venue games (twice in the playoffs and once on Opening Day). And they have transpired in consecutive calendar years (including four distinct National Series baseball seasons).
Alexei Bell's Three Single-Inning Explosions
April 18, 2007 (Playoffs, Finals Game 1) in Guillermón Moncada Stadium (Santiago de Cuba): Two homers in first inning versus Industriales (off pitchers Frank Montieth and Sandy Ojito).
April 5, 2008 (Playoffs, Semifinals Game 2) in Guillermón Moncada Stadium (Santiago de Cuba): Three base hits in second inning versus Villa Clara, including home run (off starter Juan Yasser Serrano) and two singles (off relievers Alex Suárez and Daniel Medina).
November 4, 2009 (Opening Day, National Series #49) in Guillermón Moncada Stadium (Santiago de Cuba): Two grand slam homers (8 RBI) in first inning versus Camagüey (off pitchers Vicyohandry Odelín and Dunieski Alvarez).
Bell's Opening Day display immediately confirms my earlier report (published last week on the IBAF website) that the Santiago basher was again healthy and ready to regain the home run crown from Granma's Alfredo Despaigne. As a result of his sudden injury-induced slump in early 2008-09, Bell lost his national team right field slot to Despaigne, who responded with a solid WBC performance followed by a spectacular slugging display of his own during the recent European World Cup matches, where his 11 round trippers in 15 tournament games washed out both the Cuban and overall World Cup record of nine held previously by Orestes Kindelán.
Fresh off his own recent heroics in Spain, Holland and Italy, Despaigne also opened the season with a four bagger in his team's opening contest; on Day Two he blasted his second dinger to keep early pace with Bell's renewed challenge. Cuban fans can by all indications thus look forward to another exciting home run chase that will match and maybe even top Bell's pursuit of the 30-homer barrier in 2008 and Despaigne's subsequent record-setting pace of last winter. Only this time around it will be both of them going head to head and the resulting collision certainly should be entertaining if not also history-making.
Pedro Luis Lazo Wins 250th
While Bell was grabbing most of the headlines, Cuba's Opening Day festivities were also enlivened by another record-setting performance-this one on the pitching front-by seemingly ageless Pinar del Río ace hurler Pedro Luis Lazo. The 36-year-old (April 15, 1973) Pinar starter and longtime national team closer finally crossed the career 250-victory milestone after several aborted attempts at the close of last spring's post-season. Win number 250 came in a 7-1 laugher at Capitan San Luis Stadium over visiting Cienfuegos, a game in which Lazo worked seven effortless shutout innings, surrendering 7 harmless hits, walked a pair, and struck out three opposition batters.
Lazo had tried and failed several times in the closing weeks of last season to reach the coveted plateau, including tough losses in his final two semifinals playoff outings versus Habana Province. Interviewed last night on Radio Rebelde, Lazo indicated that he still hopes to ring up enough wins (perhaps 260 or more) to keep his record safe for the foreseeable future.
It is a seeming change of heart by the oversized veteran who only last May told this writer that he has lost interest, was looking forward to retirement before the World Cup (which didn't happen), and thought it was time for an overseas coaching assignment, perhaps in Mexico. Lazo's private May pronouncements were-as it turns out-a premature story that I most fortunately delayed in breaking to the public at the time.
Lazo also yesterday continued his ongoing assault on still another league pitching milestone. He ran his career strikeout total to 2351 and is now in striking distance of overhauling Rogelio García (also Pinar del Río) for the league's all-time top spot. It is conceivable if not likely that Lazo-who needs 149 more to surpass García-might even get there this season, especially with league pitching statistics still including those from post-season games.
But he would almost have to lead the circuit to do it; the last league pacesetter in this department with over 150 was Adiel Palma (179) back in 2003. An easier target is the second-place total of 2360 posted by former Pinar teammate Faustino Corrales, a mark which should fall before the month is out. Lazo's overall career winning percentage (250-132, .654) also remains one of the league's loftiest among those with 150 or more wins.
In my last www.baseballdecuba.com column I suggested that Cuban League home run hitting was clearly on the upsurge, even if the league was still not quite the "home run derby" venue that the North American major leagues now present.
That observation-along with my report that Bell was on the mend and expected to rebound with a vengeance-now look quite astute only three full days into the much-anticipated new season. We already have evidence aplenty that there is no reason to expect long-ball slugging to dip or become any less of a center stage display during this latest rendition of the National Series.
The only downside in Cuba right now is that a continuing economic slide on the island-combined with the presence of muscular sluggers like Bell, Despaigne, Yoennis Céspedes, and Yosvany Peraza-might by mid-January have league officials scrambling to find enough Mizunos still in storage to successfully complete the full 90-game-season schedule.
*Peter C. Bjarkman is author of A History of Cuban Baseball, 1864-2006 (McFarland, 2007) and widely considered a leading authority on Cuban baseball, both past and present. He reports regularly on Cuban League action and on the Cuban national team for www.baseballdecuba.com and also writes a regular weekly Cuban League report for www.ibaf.com. He is currently completing a book on the history of the post-revolution Cuban national team.