Cuba's Docs Await TS Emily in Haiti
By Circles Robinson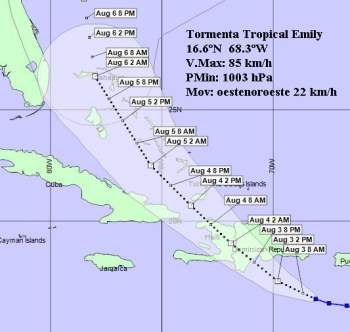 HAVANA TIMES, August 3 — The large Cuban medical brigade fighting cholera and post earthquake and other health problems in Haiti now has one more possibility to prepare for: Tropical Storm Emily.
Emily has 50 mph (85 kph) winds and is bearing down on Hispaniola Island (shared by Haiti and the Dominican Republic) where it expected to hit land by sometime Wednesday evening, noted the Cuban Weather Institute (INSMET) in their lastest advisory.
"Taking into account the weather forecast and that the tropical storm could gain in organization and intensity, affecting Haiti by Wednesday night, and especially the capital Puerto Principe on Thursday, we have decided to take a number of measures to protect our brigade members and assure the medical attention to the Haitian population," said Dr. Lorenzo Somarriba López, head of the Cuban medical mission in statements to Granma newspaper.
Somarriba said that evacuation of personal from low-lying areas prone to flooding was being planned as well as protecting medicines, equipment and furniture used by the brigade.
The doctor noted that intense rains associated with Emily could worsen the cholera outbreak, already in an endemic phase in Haiti.
Emily is the fifth tropical storm of the season.  It formed on Monday in the eastern Caribbean and a Tropical Storm warning is in effect for Puerto Rico, the Dominican Republic and Haiti.
Current projections by INSMET have Emily passing east-northeast of far eastern Guantanamo, Cuba on Thursday afternoon, in route towards The Bahamas.
Emily is currently moving at a speed of 14 mph (22 kph) on a west-northwest path.  It's central pressure is 1003 millibars, said INSMET at 6:00 a.m. EDT on Wednesday.