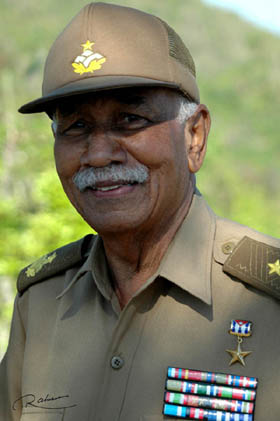 Havana Times, Sept 12 — Juan Almeida Bosque one of Cuba's revolutionary leaders   died of a heart attack at age 82 in Havana on Friday.
The Cuban authorities have declared a 24-hour official mourning period to honour this man's memory.
At the moment of his death Bosque was a member of the Communist Party's politburo and one of the vice presidents on the Council of State, Cuba's main governing body.
Almeida was at the side of Fidel and Raul Castro from the beginning of the revolution and served in top government  positions.
He is also known as a music composer and the author of  "La Lupe" a romantic song that alludes to a beloved Mexican woman he  left behind when a group of young men departed from Mexico for Cuba to fight Fulgencio Batista's dictatorship.
According to Granma newspaper his body is to be buried in Santiago de Cuba.