Cuba 4-0 After Beating Korea at World Cup
By Circles Robinson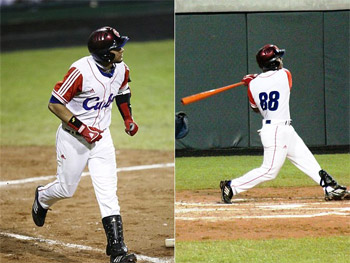 HAVANA TIMES, Oct. 7 — Cuba has allowed only three runs while scoring 35 in its first four games of the 2011 IBAF Baseball World Cup.
With its 4-1 win over Korea on Thursday the islanders remain alone atop Group B of the tournament.
Yulieski Gonzalez provided another excellent job from a Cuban starting pitcher going 5.2 innings to get the win. He allowed five singles (three in the sixth inning), walked two and struck out 10 to get the win.
Relievers Vicyohandri Odelin and Yadier Pedroso each pitched 1.2 scoreless innings to preserve the victory.  Odelen struck out two and Pedroso three to make the total fans 15 for the day.
The game's initial scoring came on a two-run homer by second baseman Yulieski Gourriel in the fourth inning following a single by left fielder Alfredo Despaigne.
After Korea edged within a run in the sixth, red hot Alexei Bell belted a two-run double in the eighth to give Cuba's relievers some insurance runs.
Korean starter Lee Chang Ho was pulled after three innings without giving up a run. Lim Hyun Yun, the first of three relievers, took the loss by issuing the homer by Gourriel.
Cuba finished with a total of seven hits to Korea's six.  The Koreans committed two errors to Cuba's one.  The last two Cuban runs were unneared.
Other results on Thursday:
Grupo A:
Netherlands 5, Puerto Rico 0
Canada 4, Taiwan 0
Panama 6, Japan 2
USA 3, Greece 0
Grupo B:
Australia 4, Nicaragua 3
Venezuela 6, Dominican Rep. 3
Italy 7, Germany 2
Standings including the game so Oct. 6
Group 1:  Canada 4-0, Netherlands 4-0, Panama 4-0, USA 3-1, Puerto Rico 1-3, Chinese Taipei 0-4, Japan 0-4, Greece 0-4
Group 2:  Cuba 4-0, Venezuela 3-1, Italy 3-1, Dominican Republic 2-2, Korea 2-2, Nicaragua 1-3, Australia 1-3, Germany 0-4
Four teams from each group will qualify for Round Two.
Schedule, Friday, October 7
14h00 Japan – Chinese Taipei
14h00 Puerto Rico – Greece
14h00 Germany – Venezuela
14h00 Dominican Republic – Australia
19h30 Canada – Panama
19h30 USA – Netherlands
19h30 Italy – Cuba
19h30 Korea – Nicaragua
(local Panama time)