Cuba Adds More Pay-for Wi-Fi Hot Spots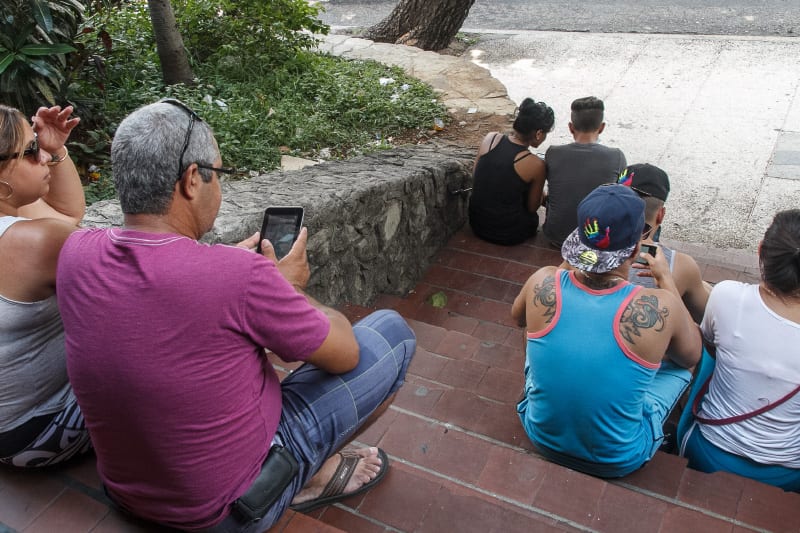 HAVANA TIMES — Cuban authorities increased access to the Internet on the island with the opening of new pay-for Wi-Fi hot spots in public places in the interior of the country, reported dpa news on Friday.
The Cuban telecommunications monopoly ETECSA has opened eight new hot spots around the country, explained "Granma" daily. The authorities are also planning to open 12 more similar spaces by the end of the year, said the official organ of the Communist Party of Cuba.
The new Wi-Fi zones are in parks in the provinces of Pinar del Rio, Cienfuegos, Ciego de Avila, Las Tunas, Matanzas, Villa Clara and Mayabeque, as well as a square in Sancti Spiritus.
With the new hot spots, Cuba now has 43 pay-for wireless zones throughout the country, several of them in Havana. Likewise the areas surrounding hotels that offer their customers wireless Internet access are also used by Cubans, especially in the capital.
Public spaces with network access have become very popular on the island in recent months, as contracting home Internet service remains banned for ordinary Cubans.
In Havana it's now common to see entire families on the sidewalks talking to relatives abroad via telephone applications such as Imo, as well as mostly young people surfing the Internet sitting in parks or plazas until the early morning hours.
Much of Cuban society has lived and continues to live "offline". According to figures from the UN agency International Telecommunication Union (ITU), in 2013 only 3.4 percent of Cuban households were connected to the Internet.
Contracting private Internet access at home remains prohibited; some "trusted" officials, professionals and artists are the exception, allowed a painfully slow dial up connection.
The government of Raul Castro says it wants to give priority to "social and public use" of the Internet.
Although the price of using the Wi-Fi access in public places has dropped to 2 CUC an hour ($ 2.30 USD) it is still prohibitive for the vast majority of Cubans who earn between 10 and 20 CUC a month.
Since mid-2013 the authorities have opened dozens of Internet cafes throughout the island. ETECSA also offers limited email access from mobile phones. Despite improvements, the island still has one of the world's worst connectivity offers.
International organizations and dissidents accuse the government of not providing affordable home Internet access for political reasons. Meanwhile, the Cuban government says the United States is responsible for the poor state of telecommunications infrastructure on the island, caused by the commercial and economic embargo imposed on the island since the 1960s.