Cuba Aid Caravan Back in the USA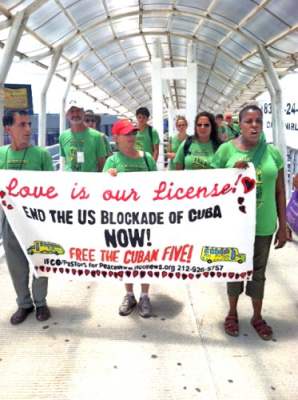 by Circles Robinson
HAVANA TIMES, August 2 — Traveling to Cuba illegally (from the US standpoint) and "breaking" the half-century US blockade on the island is the annual effort of the Pastors for Peace Friendship Caravan to Cuba.
The 22nd edition returned to the US on Monday afternoon after taking 100 tons of humanitarian aid to Cuba gathered during June-July in 130 cities across the United States and Canada.
When crossing back into the United States the caravan members were questioned by immigration officials but "they refused to answer citing their constitutional rights," notes the organization's press release.
"After the crossing was completed, the seven computers which were seized by US officials when the caravan crossed from the US into Mexico were returned, and a group of caravanistas promptly walked them back across the border into Mexico, from where they will be shipped to Cuba."
This was the first Caravan without the presence of the late Pastors for Peace founder Lucius Walker, who died last September.  His ashes were taken by the caravan to Cuba and a ceremony held at Havana's Colon Cemetery.
The Pastors for Peace Friendshipment Caravan is a project of the Interreligious Foundation for Community Organization (IFCO), which has been working for racial, social, and economic justice since 1967.
IFCO acting co-director Rev. Thomas E. Smith said in a press release, "Our caravans will continue with this challenge as long as the cruel and immoral blockade continues, and until the Cuban 5 political prisoners held in U.S. jails are freed!"