Cuba Aid Computers Seized by US Customs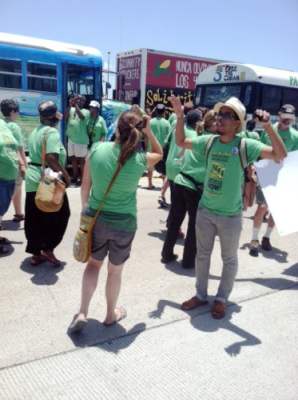 HAVANA TIMES, July 20 — The 22nd Pastors for Peace caravan of humanitarian aid for Cuba crossed into Mexico from Texas early Wednesday afternoon, but US Customs officials "seized seven computers that were to be donated to Cuban hospitals and a veterinary clinic", states a press release.
While harassment by Customs of past caravans had frequently occurred, some were not expecting it this time around.
The following is the full statement from the Pastors for Peace caravan to Cuba organizers.
US Customs and Border Patrol seize seven computers as Pastors for Peace Caravan crosses US border into Mexico
The 22nd IFCO/Pastors for Peace Friendshipment Caravan arrived at the Pharr International Bridge today at 12:20pm, to cross into Mexico with 100 tons of humanitarian aid for Cuba. US Customs and Border Patrol officers X-rayed the vehicles, searched the vehicles carrying humanitarian aid destined for Cuba, and seized seven computers that were to be donated to Cuban hospitals, schools, and a veterinary clinic.
The Customs officers explained that they were 'detaining,' not 'seizing' the computers, in order to determine whether the caravan needed to have a license to take them to Cuba. Three of the computers seized were the same ones that were taken from last year's caravan in 2010, and were later returned to IFCO/Pastors for Peace.
While the brightly painted trucks and school buses were being searched, caravanistas chanted "Cuba is no threat to you; let our computers through!" and "Love is our license! Free the computers!" and held banners and signs reading "Cuba is not our enemy" and other slogans. When the Customs officers had finished seizing humanitarian aid, the caravanistas gathered around the pickup truck where the seized computers had been placed, and prayed and chanted together.
Although the caravan is in protest of the seven seized computers, the caravan is continuing through the border to deliver to Cuba the 100 tons of aid that have crossed successfully through the border.
The over 100 North Americans and Europeans participating in this caravan just entering Mexican Customs, where the 12 caravan buses and vehicles are being inspected. The caravan is now in the process of negotiations with Mexican Immigration.
More updates will be sent soon. For updates check www.pastorsforpeace.org and www.facebook.com/pastorsforpeace