Cuba Already Watching TS Isaac
By Circles Robinson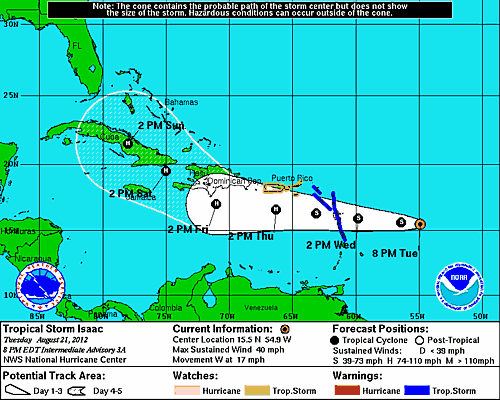 HAVANA TIMES — Tropical Storm Isaac formed on Tuesday afternoon in the Atlantic and its initially projected path has it threatening parts of Cuba by the weekend, noted the National Hurricane Center (NHC) in Miami.
Isaac, the ninth storm of the hurricane season, currently packs winds of 40 mph and the center is located at just under 500 miles east of Guadalupe in the Windward Islands of the eastern Caribbean.
It is currently moving west at a speed of 17 mph.
The early NHC projection shows Isaac reaching the Windward Islands by Wednesday afternoon and estimates that it will reach hurricane strength (75 mph) by sometime Thursday as it moves south of Puerto Rico.
The Cuban Weather Service (INSMET) says it will maintain a strict vigilance of the storm "which could pose a potential threat to our country." It also poses a potential threat to Haiti and the Dominican Republic.
A tropical storm warning is in effect for the entire eastern Caribbean and a TS watch is already in place for Puerto Rico.
Likewise, a weather system out southwest of the Cape Verde Islands has a good probability to become a tropical depression in the next 24 to 48 hours, notes the NHC.