Cuba Baseball: Pinar del Rio Reaches the Finals by Eliminating Industriales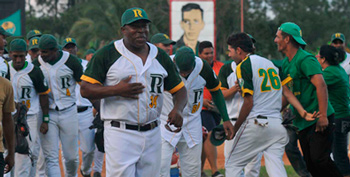 HAVANA TIMES —  Trying to come back when down three games to one to Industriales, the team with the most Cuban baseball championships, was the monumental task facing Pinar del Rio.
Five days later the near impossible had occurred and with a tense 2-1 victory in game seven, Pinar now heads to Matanzas for the playoff finals.
After taking game five in Havana by a score of 7-4 and then the sixth 7-1 in Pinar, the team managed by Alfonso Urquiola took a 1-0 lead on a homer by William Saavedra (who had done the same the day before) and then scored what proved to be the game winner on an RBI single by the David Castillo.
The final game was an excellent pitcher's duel between winner Erlis Casanova (6 innings, no runs, 6 hits and three strikeouts without a walk) and Vichoandry Odelin (6.1 innings, 2 runs, 6 hits, 2 strikeouts and 1 walk).  Both pitched well enough to win under normal circumstances.
Saavedra's solo blast in the fourth came on a mistake from Odelin in the middle of the strike zone. The clutch RBI single from Castillo came in the bottom of the seventh.
Industriales saved their best for the top of the ninth when Rudy Reyes drove in a run with a single and the fans from the capital came to life as their team had two runners on with nobody out, threatening to turn the tables on Pinar.
However the fourth Pinar reliever, Isbel Hernandez, managed to get Yasmani Tomas on a fly, that moved the tying run to third. Yoandry Urgelles, thus far 3-for-3 on the game, stepped into the batter's box but was silenced on a disappointing foul fly.  That left Raiko Olivares as the last chance to even the score. But he lined out to end the series and unleashed a flood of Pinar fans on to the field to congratulate their team.
After the game Urquiola praised his rivals and said he was very happy to bring such joy to Pinar fans and to have a chance to play the finals against Matanzas, which begins in Matanzas on Monday April 7.