Cuba Baseball: Surprise Playoff Script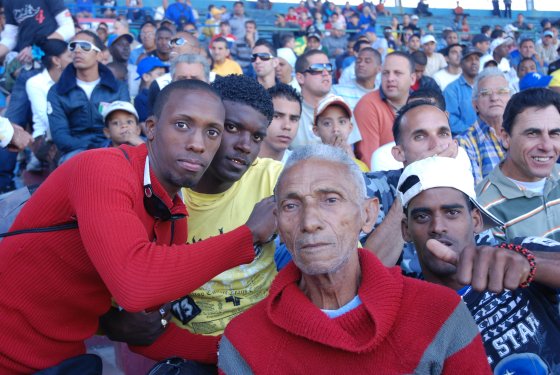 HAVANA TIMES, March 21 — German Mesa's Industriales ball club has indisputably been the "big story" from Day One of this spring's post-season saga.  After disappointing a couple million loyal fanatics in the Capital City by finishing well off the playoff pace during Mesa's debut last season, the weaker-than-normal 2010 Blue Lions also seemed destined to repeat the letdown at the tail end of the current season.
That was until a strong late-season spurt managed to get them over the hump on the campaign's final weekend.  Two victories in the final series with basement-dwelling Matanzas left Mesa's outfit with the slimmest possible half-game fourth-place margin over an injury-riddled and equally disappointing Pinar del Río squad.  If the multitude of Blue Lions faithful could breathe a small sigh of relief at season's end, they seemingly had little reason to welcome the post-season with much in the way of optimism.
BASEBALL CHAMPIONSHIP SCHEDULE
But then came the miraculous upswing—one of the biggest turnarounds of recent league history.  A prohibitive underdog again Occidental League runaway regular-season champion Sancti Spíritus (winner of a club-record 63 games), the Blues rode the inspiration of a regrettable Game Two on-field brawl—and also several resulting player suspensions—to shock the front-running Roosters in five emotion-packed games.  The only Industriales defeat of the quarterfinal round came in the very contest marred by the bench-clearing melee.
Then against pitching-rich Habana Province—defending league champions—the "Cinderella" Lions managed to upend the Cowboys' ace southpaw Yulieski González on three separate occasions.  Perhaps most surprising of all in the semifinals was the fact that Industriales won all three road contests played in enemy territory at San Jose's tiny ramshackle Nelson Fernandez Stadium.
Villa Clara Was Near Perfect
Yet what has been seemingly lost in the glare of the improbable Industriales romp through the first two rounds is the near-perfect play of Oriente League champion Villa Clara.  Edging ahead of Guantánamo in the late going to claim regular-season first-place honors, the Orangemen had relatively little trouble in sweeping by both Santiago (quarterfinals) and Ciego de Avila (semifinals).  The Santiago series seemed a likely blowout in the early going with KO victories for Eduardo Martin's team in the opening pair of games.
Villa Clara outscored the badly overmatched Wasps 35-8 in three initial contests to take a seemingly insurmountable series lead. Santiago did nonetheless return to the fray with a pair of home field wins (5-3 and 10-0) that pushed the series back to Santa Clara for game six. But it ended there with a dramatic 7-6 home club win climaxed by a walk-off bases-loaded free pass to shortstop Aledmis Díaz.
The semifinal series with Ciego found the Orangemen barely working up a sweat, cruising through five contests with only a single setback. After an 8-5 defeat prevented a series sweep in game four, the defending Oriente League champs roared back on the road for a clinching 8-4 win behind ace Freddy Asiel Alvarez.
Coming off a somewhat disappointing regular season, the second-year right hander turned in 6.2 effective innings to post his third win of the post-season. Veteran first sacker Ariel Borrero was the offensive hero of the clinching match, driving in three tallies and smacking a game-deciding 2-run homer in the top of the eighth.  This year's Oriente League crown was the second straight for Villa Clara under veteran skipper Eduardo Martin, who returned to the helm after a decade's absence in the wake of Victor Mesa's sudden departure on the eve of last season.
Under Martin's tutelage, the solid Villa Clara ball club now boasts a lineup admirably balanced with wily playoff-tested veterans and a sprinkling of talent-laden novices. Aledmis Díaz has already proven to be an adequate replacement at the key shortstop post for long-time team leader Eduardo Paret, but well-seasoned stalwarts like Ariel Pestano, Andy Zamora and Ariel Borrero are also still anchoring the heart of the Orange batting order.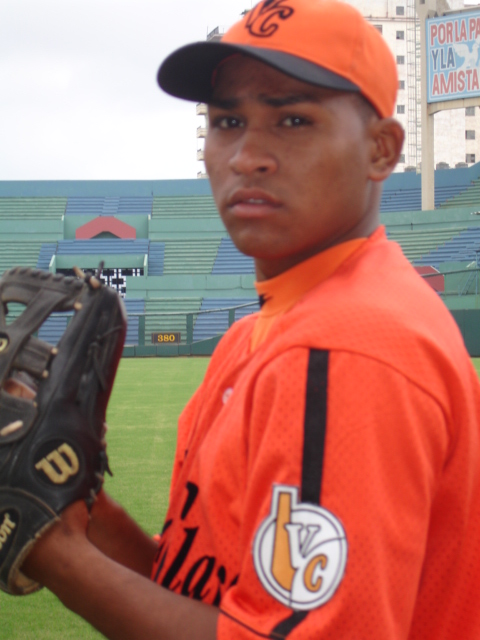 Pestano spent more time in the DH role than in his familiar backstop slot during the regular campaign; reinserted behind the plate for the championship run, the 11-year national team mainstay has proven as potent as ever in the batter's box throughout this year's opening two post season rounds.  Pestano's torrid slugging against Santiago included 3 round trippers, a hefty .864 slugging mark, and a super-solid .409 batting average.
Cut in the mold of one-time Camagüey star Luis Ulacia (with a dangerous combination of speed and power,) youngster Leonys Martin has developed quickly into the most effective leadoff batter on the entire island.  Martin stroked 3 homers in the opening round and added two more in the semis.  And second-year Ramon Lunar has quickly developed into the solid slugger and deft defender at the hot corner that the largely disappointing and now departed Dayan Viciedo once foreshadowed yet never became. Lunar paced the club with 12 base knocks in the quarterfinal round and is now smacking the ball at a team-best .405 clip through the current 11-game post-season.
Industriales Took Advantage of Opportunities
By contrast, Industriales has so far been more opportunistic than intimidating in its back-to-back upset series victories over underachieving Sancti Spíritus and unbalanced Habana Province.  The Lions mound corps has indeed posted an anything-but-shoddy 2.91 ERA through the first two rounds, but that mark has been achieved against the anemic offense of Habana Province, and also versus a quixotic Sancti Spíritus lineup that simply didn't seem to show up ready to play.
The Blues' own offense has also stroked the ball at a .290 clip (including some admittedly timely base hits in game-deciding situations), but Villa Clara, for its part, has slugged a robust .317 against Santiago and Ciego.  One key to success for Mesa's club so far is that neither of their opponents appeared to take them very seriously.  (Some of us in the press obviously didn't take the resurgent Blues very seriously either.)  But so far the Lions have done a remarkably effective job of demonstrating just how misleading regular season numbers and standings might actually be.
One partial explanation for the successful Industriales run over the past two weeks is the fact that the club is physically healthy for the first time in better than a month.  Having Yohandry Urgellés and Carlos Tabares back in the middle of the batting order has made a major impact, as has the late-season offensive maturation of talented young outfield prospect Stayler Hernández.  It was in fact the dramatic walk-off homer by Stayler against Guantánamo back on February 11 that seemingly turned around the entire season for the Industriales forces—igniting the final two-week push to survival and perhaps also inspiring the subsequent playoff surge.
The Stayler Hernández two-run ninth inning shot in mid-February seemed to literally bring this year's Industriales edition "back from the dead" and Mesa's charges have now taken full advantage of their miraculous second life. Without that dramatic late-inning triumph back on February 11 the Blues would have finished a half-game behind Pinar (not a half-game in front) and would have thus sat sulking on the sidelines for the second spring in a row.
Now that the dust has cleared on the first two rounds of post-season struggles—particularly after the upset- spiced Occidental League matches—we are left pondering exactly what happened to Sancti Spíritus (this year's clear runaway favorites) and Habana Province (last year's Cinderella-style first-time champions).
The Gallos seemed to be a bigger "lock" going into round one than the Cowboys did for round two.  But who would have guessed that neither Yulieski González (despite three futile tries) nor Jonder Martínez—two of the league's most effective hurlers this season as in the recent past—would fail to win a single contest between them against the seemingly mediocre fourth-place Blue Lions?
Perhaps a near-total collapse by the Gallos is a bit easier to explain, though plenty of mystery remains attached to the Jekyll and Hyde personality of the Sancti Spíritus club.  This team dominated the league all year long, not only in the final standings (with an 11.5 game margin over runner-up Cienfuegos) but also with its unparalleled offensive onslaughts.
Yulieski Gourriel barely missed the home run crown (one behind Alfredo Desapigne), paced the circuit in RBIs (only six short of Alexei Bell's 2008 record), and was a distinct triple crown threat right down to the final week of the campaign.  Gourriel, Cepeda and DH Eriel Sánchez became the first trio of slugging teammates to each top the 20-homer barrier.
Yet in the quarterfinal series with fired-up Industriales the Sancti Spíritus club never hit when it counted: the suddenly anemic Gallos batted a composite .259 and slugged only three total long balls (none from either Cepeda or Sánchez).  Is this sudden impotence best attributed to exceptional Lions pitching or another self-destruction act of the Gallos own making?
Many would argue the latter, since this is a team that seems to own a recent history of post-season collapse.  Last year SSP fell by the wayside  just as quickly and surprisingly in their opening clash with Habana Province, despite a strong second-half season's finish.  A mere year earlier a defensive meltdown (a throwing error by Gourriel on a potential match-ending double play) during the final frame of semifinal game seven also sabotaged a seemingly secure ticket to the league finals.
Habana Province, by contrast, lost unaccountably in the post-season the same way it had been losing all season long.  Despite four of the best arms on the island—Jonder Martínez (2008 ERA champ), Yadier Pedroso (2009 ERA league pacesetter), Yulieski González (2010 league ERA runner-up), and Miguel Alfredo González (last year's post-season MVP with an unblemished 5-0 playoff mark)—Cowboy pitching has simply not carried the team the same way it did during last year's title run.
Yulieski led the league in wins yet lost seven times during the regular campaign; he then dropped all three starts in the Occidental semifinals and thus bowed out with a 12-11 overall won-lost mark.  Miguel Alfredo was solid in a lone start against Industriales, but he was nonetheless not overwhelming in his mastery of opposing batters like he was a year earlier; the big right hander also lost as many as he won (6-6) during the regular campaign, despite an excellent earned run average (2.98).  Pedroso had two effective starts in the post season—including a 1-0 win (6 innings hurled) in quarterfinal game three versus Cienfuegos; he finished the year with an impressive 9-3 mark despite an elevated ERA.  Jonder was perhaps the team's best pitcher (certainly the most versatile) all winter, winning 8, owning an 80-32 K/BB ratio, and trailing only Yulieski and Angel Peña in the individual ERA race.  Despite all these mound corps weapons the Cowboys failed to defend their title.
In the end Esteban Lombillo seemingly had too much pitching—a claim that of course defies ages of baseball wisdom.  It is true enough that (with the loss of hefty outfielders Juan Carlos Linares and Ruby Silva) there was all too little offensive support in the Cowboys camp.  But more obvious was the fact that Lombillo's embarrassment of riches was somewhat cancelled out by his inability to settle on fixed roles for Jonder Martínez and Yadier Pedroso. This has been a common problem among many Cuban League managers—using top performers as starters one day and relievers the next—and it is also one notable difference between island baseball and the brand played in the major leagues.
Pitchers need to know their roles; they are creatures ruled by predictable routine and fueled by mental preparation.  Jonder was unaccountably never used as a starter in the Industriales series (relieving in three straight contests), despite throwing a near-brilliant complete game in the quarterfinals clincher versus Cienfuegos.  Given Yulieski's inability to get passed Industriales on two previous occasions during the same week, it would seem in retrospect that Jonder Martínez might well have been a far better choice to start in the vital must-win semifinals game six.
The Lions will not exactly be a pushover for the Orangemen, especially with a significant portion of the island's 10-million-plus fans pulling loudly for the Capital City ballclub.  Alex Mayeta (with a team-leading 16 hits and a .703 slugging mark so far in the playoffs) and Carlos Tabares (.351 post-season batting) have come up big so far in the post-season, as has Yohandry Urgellés (with a club-best 12 post-season RBI). Urgellés has rebounded brilliantly from a hand injury that kept him sidelined for much of the final third of the season.
The Lions also boast three adequate if not always consistent starters in Arleys Sánchez (8-6, 3.21), Ian Rendón (5-7, 3.74), and Odrisamer Desapaigne (10-7, 4.30). To boot they own one of the top closers in the league this year in the person of Yohandri Portal (16 saves), at least as far as raw statistics go. But most of the effective bullpen work for Mesa in the post-season has been performed by youngster Armando Rivero (with two victories in the quarterfinals and a pair of saves in the semis) and veteran one-time starter Frank Montieth (6 saves on the season, but two in the recent semifinals). And there is always the presence of the dangerous Rudy Reyes who stroked the season's biggest hit with his quarterfinal-clinching grand slam that buried demoralized Sancti Spíritus. This team admittedly has plenty of veteran leadership.
Sometimes championship series come down in the end to momentum and even emotion.  The Lions seem now to be riding the crest of both these intangibles.  But more often than not it is experience that wins out in the most tense championship contests.  And here Villa Clara owns the decided edge. True enough that Industriales has its share of seasoned veterans in Tabares, Reyes and Mayeta.  And fans will point to the fact that the Blues own more playoff victories than any team in league history and thus seemingly "know how to win" in playoff scenarios.
But the latter claim is definitely misleading since this is not the same Industriales squad that last claimed a title in 2006; only Taberas, Reyes and Mayeta were mainstays on that outfit. The entire Villa Clara squad, on the other hand, is now coming off a near-title-run only one year back and thus has the undisputed upper hand when it comes to playoff experience.
Championships are also normally won when an individual player or two rise above the field with a memorable history-making performance.  My guess is that Leonys Martin and Fred Asiel Alvarez are the key performers in this biggest showdown series of the year.
Martin has been as hot as ever the past several weeks and he possesses multiple ways to beat opponents—slugging with power, reaching base with impressive regularity, dangerous base-path speed, and stellar outfield defense.  And Martin is also developing an uncanny knack for stroking clutch hits in crucial big-game situations—just like his earlier prototype Luis Ulacia.  If the Blues don't keep Martin off the basepaths at the top of the Orange batting order, they are indeed in for some long evenings and a disappointingly short series.
Ace Freddy Asiel is admittedly coming off something of a disappointing sophomore campaign, with his 3-10 won-lost ledger, despite an acceptable 3.82 ERA during 115.1 workhorse innings.  But for two years in a row now Freddy Asiel has proven a clutch post-season performer, seemingly saving his best outings for the big pressure games.  My call here is that these two youngsters will not only carry their ball club to victory but will also run neck and neck for the individual prize of post-season MVP honoree.
Bjarkman's Outlook for the Finals
My track record has so far not been good when it comes to predicting the post-season fate of this year's schizophrenic Industriales outfit.  I have seemed to sell the Blue Lions short in both opening rounds, perhaps underestimating the playoff savvy and post-season playing experience of second-year manager Germán Mesa.  Yet all but the most diehard Blue Lions rooters—of which of course there are many—will have to admit that the victories over both Sancti Spíritus and Habana Province were more than just mild surprises.
I was not alone in predicting an early exit for the popular team representing the Capital City.  So I am now ready to accord the Lions much more respect, and also to admit that nothing they do in the championship round will entirely surprise me. But I am at the same time not at all ready to now jump onto the increasingly crowded Industriales bandwagon.
Momentum and inspiration carry a team just so far against superior talent. To win this final series the Blues will need a huge lift coming from at least one (if not two) road victories at the outset in Augusto César Stadium. This current Villa Clara team would be defending champions, after all, had they not run into Habana Province pitching at its very best last May and early June.  And talented youngsters in the vanguard of the Orange squad—Leonys Martin, Ramón Lunar, and Freddy Asiel Alvarez—are now a year older and thus a year more experienced.
Villa Clara's pitching is every bit as solid as any offered by Industriales (with veterans Luis Borroto and Yosvani Pérez backing Freddy Asiel, plus steady Yolexis Ulacia in the bullpen) and Martin's offensive lineup from top to bottom is a full notch better than the Industriales bunch.  Industriales has had its brief run at glory and now reality is about to set in with a vengeance.
Bjarkman's Prediction: Villa Clara wins in five games.
However big a story the Industriales surge in the playoffs has been so far, from a larger prospective this year's championship results will not in the end be at all extraordinary.  Certainly not surprising like last year's result, which witnessed a first-time-ever winner, or like the situation in National Series #41 (2002) which found perennial also-rans Holguín and Sancti Spíritus squaring off for the coveted trophy.  It is true enough that Villa Clara has not claimed the title in a decade and a half (since their three-peat back in 1993-1994-1995), but the Orangemen have nonetheless been fairly regular visitors to the finals in recent seasons (1996, 1997, 2003, 2004).
Three of those four occasions (including two this decade) had the Villa Clara forces matched with these very same Capital City Lions. A first league title for the Orangemen (and the only one outside the early 1990s back-to-back-to-back string) came a quarter-century ago in 1983, ironically also under the direction of current skipper Eduardo Martin.  This year's appearance makes it once again two straight for Leonys Martin, Ariel Pestano, Andy Zamora, Ariel Borrero and company.  In brief, there are certainly no shocking interlopers in this year's championship clash—at least not from an historical prospective.
Industriales is of course Cuba's most consistent champion, owning 11 league titles overall, six since the playoff system was first introduced with National Series #25 (1986). This is also the eighth trip to the finals for the Blue Lions over the last 17-year stretch. Of 24 titles decided by playoffs, either Industriales or Villa Clara has come out on top of the heap nine different times. And since it was also Havana's Lions who claimed a first post-season crown back in 1986, it might seem only fitting that the same club might now claim a bookend title here in the twenty-fifth-anniversary post-season.
But whether it is ultimately Mesa's surprising Lions or Martin's powerhouse Orangemen who come out on top this time around, all will certainly once again seem proper within a tradition-bound Cuban circuit which did seem a bit askew after last spring's surprising title surge by an infrequently potent and tradition-poor Habana Province ballclub.
*Peter C. Bjarkman is author of A History of Cuban Baseball, 1864-2006 (McFarland, 2007) and is widely considered a leading authority on Cuban baseball, both past and present. He reports on Cuban League action and the Cuban national team for www.BaseballdeCuba.com and also writes a regular monthly Cuban League Report for www.ibaf.com. He is currently completing a book on the history of the post-revolution Cuban national team.