Cuba Baseball Teams in Last Ditch Effort to Qualify
For the second half of the season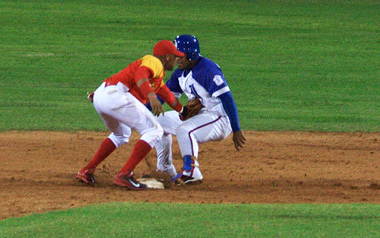 HAVANA TIMES — With six games in one week of play to go the Cuban baseball league nears the end of the qualifying round of play.
Eight of the 16 teams will get to contend in the 42-game second half of the season and later seek a playoff ticket.
The teams already pretty much guaranteed to continue on are the four frontrunners Villa Clara (24-13), last year's league champions, Industriales (23-13) the team of the capital city, Matanzas (24-14), last year's runner-up, and the much improved Isla de la Juventud (24-15).
The teams without hope are Sancti Spiritus and Guantanamo (12-27), Cienfuegos and Camaguey (15-24) and Las Tunas (16-21).
That leaves 7 squads battling for the final four tickets to round two. These are Holguin and Pinar del Rio (23-16), Santiago de Cuba (21-18), Ciego de Avila (20-19), Artemisa (19-20) and Granma and Mayabeque (18-20).
For those wanting to catch a game at Havana's Latinoamericano stadium, Industriales plays it's last three-game home game series against Holguin with a doubleheader on Saturday December 28 and the final game on December 29.
For more information on the final week of play you can write [email protected]