Cuba: Beyoncé Trip to Havana Makes Waves in Washington
By Circles Robinson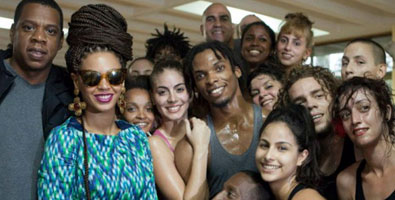 HAVANA TIMES — The private visit of R & B singer Beyoncé and her rapper husband Jay-Z to Cuba last week continues to make headlines on Sunday as two US congress persons accuse them of possible violating the US travel ban on its citizens.
The celebrity couple traveled to Havana to spend their fifth wedding anniversary and Florida representatives Ileana Ros-Lehtinen and Mario Diaz-Balart have asked the government whether the artists had a special US Treasury Dept. license needed to visit Cuba.
"Cuba's tourism industry is wholly state-controlled; therefore, US dollars spent on Cuban tourism directly fund the machinery of oppression that brutally represses the Cuban people," wrote the representatives.
Beyonce was greeted by scores of fans during the couple's tour of the city, which included a dinner at the famous La Guarida private restaurant, a walk through Old Havana and visits with the Danza Contemporanea Troupe, singer Haila, the La Colmenita children's theater group and with students and teachers at the Superior Art Institute.
The Obama administration maintains Cuba on Washington's annual list of countries that promote terrorism and for a half century has imposed an economic embargo on the island in a failed effort to bring down the Castro government.
The travel ban prohibits US citizens from visiting Cuba without a special license. Only Cuban-Americans are freely allowed to visit the island. Each year thousands of US citizens violate the travel ban going to Cuba through third countries, and the Cuban immigration authorities do not stamp US passports.