Cuba Blames US for "Deteriorating" Relations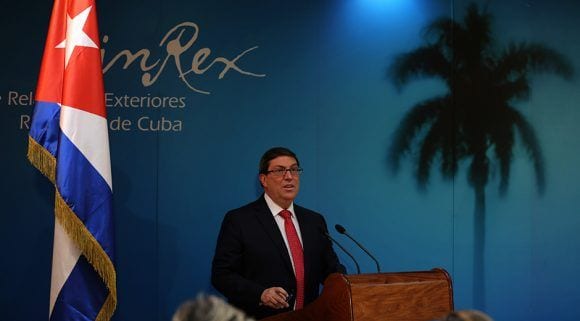 HAVANA TIMES – The Cuban government today blamed the United States for the "deterioration" of bilateral relations after the announcement of the expulsion of 15 Cuban diplomats from Washington, reported dpa news.
"With these politically motivated and poorly though out actions, the US government is responsible for the present and probably future deterioration of bilateral relations," Cuban Foreign Minister Bruno Rodriguez told a news conference.
The State Department gave the Cuban ambassador in Washington a list of 15 names on Tuesday and said officials have a week to leave the country.
The expulsion comes after Washington ordered most of its diplomats to leave Havana last Friday, claiming that the Cuban government has not been able to protect them.
The United States alleged that 21 US officials in Cuba suffered mysterious "acoustic attacks" which caused them different symptoms ranging from nausea to deafness.
The Cuban Foreign Ministry said that the State Department made the decision "without conclusive research results or evidence" about the "acoustic attacks" that caused the tension between the two countries.
The Cuban government agreed that officials from specialized agencies in the United States visited Havana on three occasions in June, August and September – to "work on the ground for the first time in 50 years" and to investigate.
"They were given all the facilities, including the possibility of importing equipment, as a sign of goodwill and the great interest of the Cuban government in concluding the investigation," said Rodriguez.
The head of Cuban diplomacy called on the US "not to continue politicizing this issue, which may lead to an undesirable escalation, as well as weaken and further reverse bilateral relations, already affected by the announcement of a new policy made last June by President Donald Trump ."