Cuba Caravan Rolls Past Mex. Border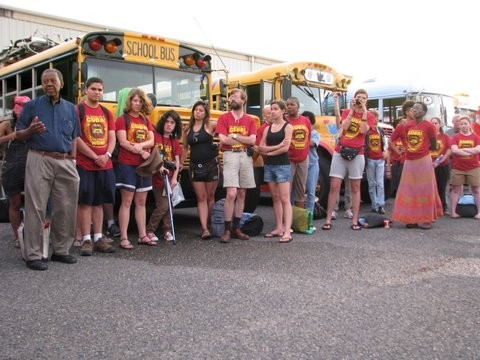 HAVANA TIMES, July 21 – The Pastors for Peace Friendship Caravan crossed the border from McAllen, Texas to Reynoso, Mexico on Tuesday with over 100 tons of humanitarian aid headed for Cuba.
This year's caravan, the 20th,  -brought together 130 volunteers from the US, Canada and Europe.  Pastors for Peace makes an annual challenge to the half-century US economic blockade on Cuba as well as the travel ban that forbids ordinary US citizens from visiting the Caribbean island.
"People have demonstrated their desire to end this inhumane policy towards Cuba by their generous donations and by their informed questions. People want the freedom to travel to Cuba without limitations by the U.S. government," said Rev. Tom Smith the IFCO/Pastors for Peace board chair.
"We have met people throughout the US who are willing to do more to make this change happen," Smith continued.  Thousands of people signed up for our emergency response network-standing ready to make calls to their congressional representatives and the Obama administration demanding that our aid to go through." said Smith.
The border crossing from McAllen, Texas was "the easiest crossing so far." said Rev. Lucius Walker, executive director of IFCO/Pastors for Peace.  On numerous previous occasions border showdowns lasted several days and US authorities' confiscated portions of the humanitarian aid.
According to a Pastors for Peace press release just out, "Seven brightly painted school buses filled with aid, two large box trucks (filled with aid collected by Cuban-Americans in Florida), and several smaller vehicles make up this year's caravan, which is carrying urgently needed construction supplies for victims of the three hurricanes that hit Cuba in the summer/fall of 2008.  Nearly 500,000 Cuban homes were damaged by three major hurricanes.
"The caravan stopped in 140 cities over the last two weeks [collecting donations and holding rallies].  Every place the caravan stopped, the message was clear: 'President Obama, it's time to end this blockade!"
Pastors for Peace describes itself as "a project of the Interreligious Foundation for Community Organization (IFCO), a national ecumenical agency that has been working for social, racial, and economic justice since 1967."