Cuba Changes & Anti-Corruption Fight
HAVANA TIMES, Dec 6 — The growth in Cuba's GDP for 2011 will be 2.7 percent, slightly less than the forecasted 3 percent, according to a report presented to the Council of Ministers.
The shortfall is due to flaws in the investment plan and problems in agriculture, where the production of beans, bananas, pork and milk was lower than projected.
This forced the country to increase food imports, with milk alone having costing an additional $15 million (USD). It's expected that next year more will be produced and less imported, but for the same cash value due to rising prices on the international market.
It was also reported that work was being done on the development of a new labor code, since the current one dates back to 1985 and only covers the state sector.
What is required is a new law that provides for and regulates the activity of self-employed workers, who now make up over half a million individuals if one counts those both in the city and the countryside.
Their numbers will continue to increase with the implementation of planned layoffs from state-run companies and institutions, in addition to the "co-operativization" of some services like hairdressing and the leasing out of more publically-owned land.
In agriculture, announcements were made concerning new transfers of land to farmers and an offensive against those state farms that refuse to turn over their idle fields.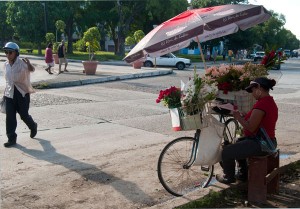 To date, 1.131 million hectares (close to 2.8 million acres) have been transferred free of charge to private farmers, cooperatives and townspeople who see agriculture as an opportunity to better their lives.
In Cuba, many farmers have higher average incomes compared to the rest of the population, even professionals.
The issue of corruption was again put on the table at the Council of Ministers session. Announced this time was the arrest of those involved in four criminal operations involving managers, officials and workers in the field of commerce.
These groups defrauded the government through fictitious shipments of 800 tons of garlic to Havana, thereby pocketing over a half a million dollars.
Referring to such acts, President Raul Castro stressed the importance of the Comptroller General of the Republic, whose office "must play an increasing role in leading." He emphasized that "we won't allow their observations to be shelved."
Comptroller Gladys Bejerano has had significant success in her efforts against "white collar" fraud, uncovering corruption in the millions of dollars in key sectors such as civil aviation, cigars, nickel, telephone services and food, as well as fraud among some of the most important foreign companies operating in Cuba.
Over the last three years, her office's activity led to the imprisonment dozens of corrupt figures – from a Canadian businessperson to a Cuban minister.
President Raul Castro went a step further by questioning not only corruption but also the inefficiency of some cadre. He said everyone must take responsibility for what happens in their field.
"Those who can't comply should say so, because we're not going to allow people to commit the same mistakes over and over again," said the head of state.
In the social sphere, it was announced that a mechanism would be created to provide subsidies to very low-income families whose homes are in need of repairs or enlargement.
Within the package of reforms, the government allowed the unrestricted sale of building materials, but at market prices – which are well beyond the reach of most families.