Cuba Forecasters: Irene Slows before Bahamas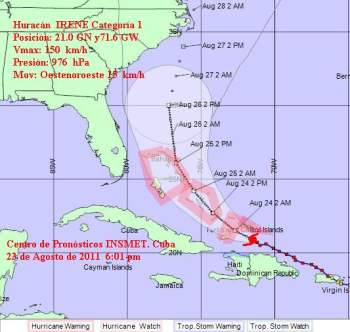 By Circles Robinson
HAVANA TIMES, August 23 — Hurricane Irene has slowed down its movement to 9 mph (15 kph) as it lashes the Turks and Caicos Islands and approaches The Bahamas.
The storm currently packs 90 mph (150 kph) winds, notes the Cuban Weather Service (INSMET).
The Cuban forecasters have warned that Irene would cause light coastal flooding by Tuesday night and may bring heavy rains on Wednesday and Thursday in the northeastern provinces of Guantanamo and Holguin.
Winds in those provinces are expected to reach 35-45 mph (60 to 70 kph) with stronger gusts.
At 6:00 p.m. EDT, INSMET located the center of Hurricane Irene at 215 kms. east of Inagua Grande, eastern Bahamas and 280 kilometers east-northeast of Punta de Maisí, Guantanamo.
INSMET expects Irene to continue incline its route to the northwest early Wednesday and gain in intensity, possibly becoming a major hurricane with winds over 110 mph in the next 24 to 48 hours.
After passing through the Bahamas the hurricane will take aim on the US Atlantic coastline where it is currently expected to touch land by the weekend in North Carolina.  This evening's projections exclude Florida from receiving any direct hit.
Heavy rains continue to fall on northern Haiti on Tuesday as Irene churns off its northern coast.  Fields were devastated and rivers have overflowed their banks.  For more on the situation in Haiti we recommend Haitilibre.com.
Meanwhile, a 5.8 magnitude earthquake surprised residents of the mid/northern east coast of the United States on Tuesday.  The quake, with its center in Virginia, was felt from North Carolina all the way to Maine.