Cuba Forecasters on TS Lee & Hurricane Katia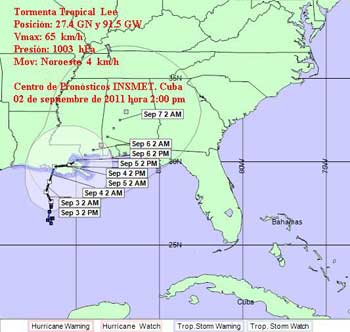 By Circles Robinson
HAVANA TIMES, September 2 — Hurricane Katia is still a long way from any possible landing but the newly formed Tropical Storm Lee is already approaching a Sunday touchdown in Louisiana.
Local authorities are scrambling to prepare for the predicted prolonged heavy rains and possible flooding in cities including New Orleans.
At 2:00 pm on Friday, the center of TS Lee was located by the Cuban Weather Service (INSMET) at 200 miles (320 kilometers) southwest of Cameron, Louisiana.
Meanwhile, forecasters in the US said New Orleans could get up to 15 inches of rain through Sunday afternoon as the storm hovers over the Gulf Coast area.
"The city, anxious about any possibility of a repeat of Hurricane Katrina, has already declared a state of emergency and is taking early precautions," reported the New Orleans Times Picayune.
INSMET said that TS Lee has 40 mph (65 kph) maximum sustained winds and a central pressure of 1003 millibars.  Most concerning to the Gulf Coast area is its slow movement, currently only just over 2 mph, which could bring up to 20 inches of rain in some localities in the coming days.
The governor of Louisiana has called a state of emergency to prepare for flooding and other damage.  The National Hurricane Center (NHC) in Miami has a Tropical Storm warning in effect for the Gulf Coast region from the Texas-Louisiana border to the Mississippi-Alabama line.
HURRICANE KATIA
Hurricane Katia continues to churn in the Atlantic, still not threatening land anywhere in the coming 5 days, according to the INSMET and NHC projection cones. It's future beyond that is still a mystery.
Katia has 75 mph (120 kph) máximum sustained winds and a central pressure of 991 millibars.  The center was located at 620 miles (1000 kilometers) east of Antigua in the northern group of the Eastern Caribbean islands.
The storm is moving west-northwest at 14 mph (22 kph).  INSMET predicts that during the next 24-48 hours Katia will maintain its course, slowing down in its movement and gaining some in intensity.