Cuba Frees Dozens of Political Prisoners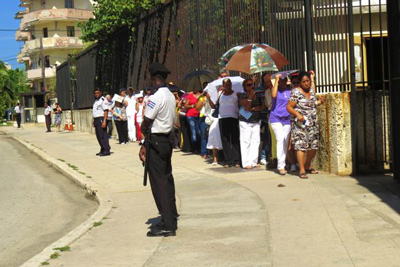 HAVANA TIMES — Cuban authorities released dozens of political prisoners in the last 24 hours as part of the historic diplomatic rapprochement with the United States announced on December 17, reported dpa news.
The releases began on Wednesday afternoon, according to dissident sources. "The number of released is already in the order of 35," said Elizardo Sanchez, leader of the opposition Cuban Commission for Human Rights and Reconciliation (CCDHRN).
According to the commission, most of the released prisoners are members of the banned opposition group Patriotic Union of Cuba (UNPACU), which operates mainly in the eastern provinces of the country.
"The bulk of those released are members of the Patriotic Union" said Sanchez, who personally spoke with 15 of those freed from UNPACU, particular active in Santiago de Cuba, the second city of the island.
"But there are others (released) from different organizations and different provinces," said the activist.
The first five released on Wednesday were Patriotic Union members imprisoned since 2012, sentenced to up to five years for crimes including "contempt, resistance and public disorder."
All have been released on parole, specified Sánchez. "The impression we have is that the process of release has begun," he said Wednesday.
The government of Raul Castro and the official media has not reported the releases. Their usual position is that there are no political prisoners in Cuba, only common criminals.
On Tuesday, a spokesman for the US State Department said the Cuban government had begun to release some of the 53 political prisoners to be released after the agreement reached between Washington and Havana in December, but declined to give figures.
"They have already released some of the prisoners," spokesperson Jen Psaki told a press conference in Washington.
Psaki would not however specify the number or the identity of prisoners set to be released, although she was confident that the remaining political prisoners would be out of jail "in the near future."
"It's an ongoing process. We do not expect it to occur overnight. They committed to do so and we will continue to have a discussion about it," said Psaki.
The Cuban government reported only the releases of American Alan Gross and the Cuban spy working for the CIA announced on December 17 as part of an exchange for three Cuban agents (of the Cuban Five) imprisoned in the United States.
On that day, Washington and Havana also announced a landmark agreement to resume diplomatic relations after over five decades of ideological confrontation.