Cuba Gov. Supporters Intercept Yoani Sanchez at Event in Brazil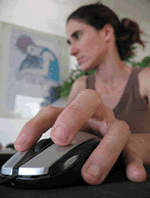 HAVANA TIMES — Reports in last night from Bahia, Brazil state that Cuban blogger Yoani Sanchez was met by a pro-Cuban government protest when she tried to attend a premiere of a documentary film in which she was one of the main interviewees.
Earlier in the day she had been met by organized protests at two airports en route to the event, her first stop on a multi-nation tour to speak out against the policies of the Raul Castro led government.
The protesters at the museum where the film was to be shown were around four dozen, estimated AP, and shouted "Cuba yes! Yankees no!".  They accused Sanchez of being on the US payroll to attack her country's authorities.
An hour after being taken away from the screening room to safety by security personnel, Sanchez, accompanied by Brazilian Senator Eduardo Suplicy, spoke outside the hall with those present, both detractors and supporters.
"After remaining silent for a long time, after living in a society where not speaking up was the option of the majority of my countrymen, after so much silence, one fine day I couldn't take it anymore and I started a blog," she told those gathered, some who cheered, some who booed, reported AP.
See Related Post: Yoani Sanchez Met with Protests in Brazil