Cuba: Has Counterintelligence Prohibited Photographing Shops?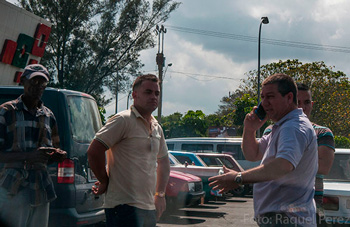 HAVANA TIMES — Cuba's Military Counterintelligence, CIM, is the body that prohibits taking pictures in supermarkets, according to the surprising version of Fernando Casas, the manager at the Boyeros and Camaguey store in Havana.
The supposed order from above is what gave power to the manager and some of his boys to try to wrest the camera from our photographer and prevent her from leaving the parking lot in her car.
When I presented myself in the place, the manager grabbed me by the shoulder and started yelling threatening me with the Armed Forces. "You can't take pictures because it belongs to the FAR [Revolutionary Armed Forces], I just spoke with the CIM and they tell me that you have to delete the photo," said Mr. Casas.
When I asked where the signs are prohibiting photographing he replied that we are arrogant and walked away, while one of his assistants came up inches from my face to remind me that this was not my country.

I cannot believe that CIM is dedicated to ensuring the "security" of a supermarket. It is more likely that management fears the pictures could reveal illegalities, such as the presence of private meat sellers without sanitary conditions.
Curiously, they never called the police, something we asked them to do from the start. So, as a precaution, I recorded the entire conversation to avoid them later misrepresenting what they said.
—–
(*) Visit Fernando Ravsberg's blog (in Spanish).