Cuba Hosts Visit from Muriel Bowser, Mayor of Washington D.C.
A month ahead of Obama's arrival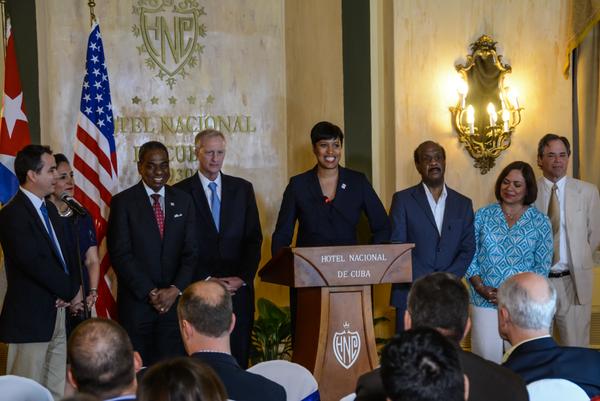 HAVANA TIMES — The mayor of Washington D.C., Muriel Bowser, is in Cuba on a several day visit. In Havana on Monday she praised the thaw between the US and Cuba, one month before the historic visit that President Obama will make to the Caribbean island.
"Like President Obama, we advocate the spirit of rapprochement over isolation" said Bower in the Cuban capital, where she is accompanied by a delegation of politicians and business people.
"This president is serious; we are very optimistic about this trip," said Bowser of Obama's announced visit to the island starting March 21. He will be the first US president to visit Cuba in nearly 90 years.
Bowser described Obama's journey and that of several other US politicians in recent months as a "good indicator" of the current state of bilateral relations. The visits have included governors of both political parties and three members of the Obama cabinet visited Havana since the two countries formally resumed diplomatic relations in July 2015.
A month later in August, John Kerry became the first head of the US diplomacy to visit the island in 70 years.
Obama's upcoming visit will be the first by a US president since Calvin Coolidge 88 years ago, and is already being considered a milestone in the relations between the two countries.
Mayor Bowser began her visit to Cuba on Saturday. On Monday she met with the Minister of Foreign Trade and Foreign Investment of the island, Rodrigo Malmierca, and the president of the Provincial Assembly of People's Power in Havana, Martha Hernandez.
The thaw between the two countries has generated considerable interest among US entrepreneurs to enter the Cuban market, marked for decades by the state monopoly. A projeccted "boom" among US citizens wishing to visit the socialist island is a draw to the tourism industry.
Bowser traveled to Havana with representatives of the banking, education and construction sectors from the US capital. Their visit to Havana ends on Tuesday.