Cuba Issues Detailed Report on Damages from Hurricane Irma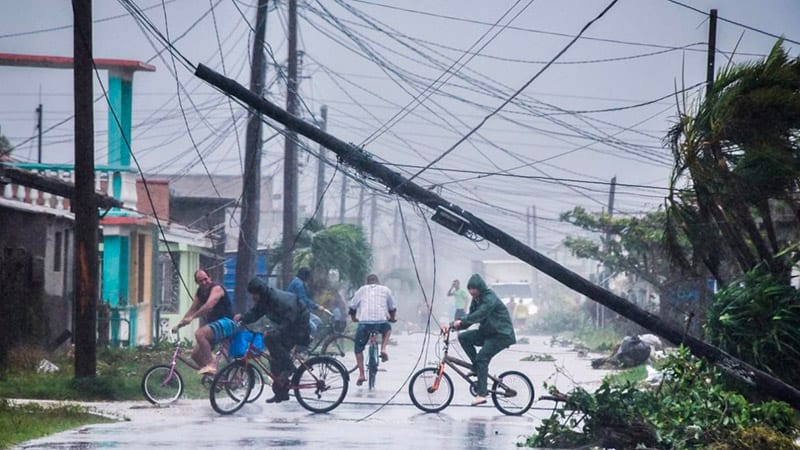 HAVANA TIMES – Hurricane Irma swept over much of Cuba from east to west on September 7-10. Ten people died and a huge amount of losses occurred both in people's homes and farms and in government businesses and properties.
Here is the official translation of a detailed report issued yesterday by the National Defense Council.
National Defense Council Informational Report
On September 7-10, Cuba was impacted by the powerful Hurricane Irma, which caused severe coastal flooding, strong winds, and heavy rainfall, principally in the north of the island stretching from Camagüey to Artemisa.
The provinces most affected were Camagüey, Ciego de Ávila, Sancti Spíritus and Villa Clara. Others such as Guantánamo, Holguín, Las Tunas, Cienfuegos, Matanzas, Mayabeque, and La Habana also suffered damage.
Defense Councils still remain activated in the provinces of La Habana, Matanzas, Villa Clara, Cienfuegos, Sancti Spíritus, Ciego de Ávila, Camagüey, Las Tunas and Holguín; as well as 57 Municipal Defense Councils in these provinces, with the responsibility of organizing the recovery work.
Based on preliminary data provided by the National Statistics and Information Office (ONEI), and the reports made daily by the three chief officers of the Strategic Regions to the president of the National Defense Council, we can report the following:
Of the 1,863,589 persons sheltered during the passage of Hurricane Irma [either at the homes of relatives, neighbors or friends or at government shelters] 11,689 continue to receive state support in the form of food and other resources of basic necessity, in Ciego de Ávila, Camagüey, Villa Clara, Holguín, Sancti Spíritus, La Habana, Las Tunas, Matanzas, and Guantanamo.
Reports indicate that 158,554 homes were affected: 14,657 were totally destroyed and 16,646 partially; while 23,560 lost their entire roofs and 103,691 suffered some roof damage.
To respond to this situation, the government decided that the state budget would finance 50% of the cost of construction materials sold to persons facing the total or partial destruction of their homes.
[Editor's Note: construction materials were already far below demand before the hurricane. Prices were also out of reach of many Cubans who must live off a salary or pension ranging from 10 to 30 USD a month.]
Likewise to be awarded is a 50% discount on current retail prices for goods of basic necessity, for the population affected, among these are mattresses, personal hygiene products, cooking equipment, and linens. In cases of greater need, 100% of the cost of some items will be covered.
Additionally, existing supplies of these resources and building materials within the retail network were frozen, and placed at the disposal of provincial Defense Councils to prioritize their distribution to those affected by the hurricane.
In the wake of Hurricane Irma, some 900 stands selling prepared food, at moderate prices, were established in impacted areas. Likewise, neighborhood stores and retail outlets were relocated, to maintain sales of items included in the subsidized family basket, as well as other market items.
Immediately following the extreme weather event, a variety of donations began to arrive, from governments, friendship associations, companies, non-government organizations, universities, and religious institutions, among others.
These demonstrations of solidarity, for which we express gratitude in the name of the Cuban people and government, complement our country's efforts to repair the damage. Items will be delivered to those affected, through established systems, free of cost, of course.
Distribution of construction materials has also been strengthened, with the use of resources on hand in the country, and the support of local industry. Organizational measures adopted include expanding the network of sales outlets, to provide easy access by those affected, along with the appropriate selection and training of personnel.
The national electricity grid is practically restored, and 99.9% of consumers are now receiving service, despite the fact that damage occurred in almost the entire country: two high tension pylons were completely destroyed; 3,616 poles and 2,176 kilometers of lines downed; 1,379 transformers damaged, along with 1,300 kilometers of service lines and ten sub-stations.
Provinces still facing interruptions in electrical service are Villa Clara, Sancti Spíritus, Ciego de Ávila, and Camagüey, functioning at 98%. Today, September 29, we expect to largely conclude the reestablishment of the country's primary and secondary circuits.
Worthy of special mention, in the process of reestablishing the country's electrical system, is the work of mixed brigades, created in the most affected provinces to carry out clean-up, pruning, opening of trenches, and hauling of utility poles.
In the communications sector, it was principally the telephone system which suffered damage, with the interruption of service to 246,707 land lines, and 1,471 data lines. Also damaged were 312 cell phone transmission stations, 27 towers, and 4,764 poles. To date, 95.3% of telephone and data services, radio and television broadcasting, have been reestablished.
Regarding roads and highways, some 537 kilometers were affected. The most serious damage was to causeways to tourist facilities on the keys Santa María and Coco, on which traffic can now move, while work continues to complete their full repair.
Coastal flooding affected a section of the Vía Blanca highway, in Mayabeque, as well as the Havana Bay, Fifth Avenue, and Línea tunnels in the capital, which required continuous work to extract the large volumes of water accumulated within them. The reestablishment of the technical systems of these important Havana routes was achieved within only 13 days, and this coming weekend, traffic will again flow on the Malecón, which was also seriously damaged.
Despite the impact on educational centers, the academic year has been re-initiated across the country, thanks to the repair of a number of schools and the use of alternative sites in the most affected areas.
Of the 980 healthcare institutions damaged, 289 have been repaired, while maintaining the system's operations and continuing to provide vital services to the population. Additionally, a stable epidemiological situation has been maintained, although prioritized attention to this issue must continue.
In agriculture, the principal impact was concentrated on poultry farming, with 466 sites damaged. Some of these 348 are again ready for operations. Some 95,000 hectares of various crops were hit by Hurricane Irma, of which 35,000 have been recuperated. Noteworthy among these are 20,000 hectares of plantain. Also developing are new plantings of short cycle crops, sowed with the goal of supplying these products to the population.
The sugar industry reports that 338,000 hectares of cane were damaged, mostly in Camagüey, Ciego de Ávila, Villa Clara, and Matanzas. Some 180,000 have already been recovered and work is underway on the rest, with damages estimated at three to 20%.
Intense work is also underway to repair 20 sugar mills located in northern Camagüey, Ciego de Ávila and Villa Clara, — which constitute 40% of national capacity— where damage was primarily to roofing.
In tourism, despite the damages, staff has worked hard to allow all tourist poles in the country to now be offering services, with the exception of those located on keys to the north of Villa Clara and Ciego de Ávila, which will begin operations by the beginning of the high season, with all facilities ready by November 15.
The rains that accompanied Hurricane Irma favored the water situation on the island, which has faced a serious, prolonged drought for over three years. Precipitation accumulated during September thus far has reached 256.4 millimeters, representing 137% of the historic average for this month. Provinces receiving the most rain were Sancti Spíritus, Camagüey, Ciego de Ávila and Villa Clara, while those which benefited the least are Artemisa and La Habana, as well as the Isle of Youth Special Municipality.
Reservoirs now hold 6.302 billion cubic meters of water, equivalent to 68.4% of full capacity.
In terms of the distribution network, 99% of aqueducts are in working order. Four systems continue to be interrupted: three in Camagüey and one in Villa Clara, affecting 6,961 persons, who are being supplied water with tank trucks.
Work continues on the preparation of reports estimating the value of damages, under the direction of ONEI. Also underway are studies of the environmental impact of the disaster, led by the Environmental Agency.
The National Defense Council recognizes the outstanding work done by the Strategic Regions and Provincial, Municipal, and Zone Defense Councils. Likewise outstanding was the support and discipline of the population, that in conjunction with mass organizations and other bodies, has worked arduously in the hygienic and sanitary clean up, actions in which the participation of the Ministries of Revolutionary Armed Forces and the Interior was also significant. In order for the country to repair hurricane damage in the shortest period of time possible, it is imperative that we maintain the joint work and spirit of struggle that has always characterized our combative people.