Cuba Jumps Argentina in Volleyball
By Circles Robinson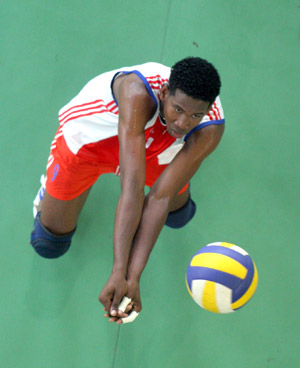 HAVANA TIMES, July 23 – Fifteen-year-old sensation Wilfredo Leon scored 24 points including several key service points to give Cuba a 3-1 victory (25-22, 22-25, 26-24, 26-24) over Argentina in the first match of the second round of Men's World Volleyball League play in Belgrade, Serbia.
In the fourth and deciding set Cuba overcame a 16-12 deficit led on by key blocks by Osmany Camejo and team captain Robertlandy Simon.
"It was a good match, both teams were trying to do their best to win the match, the only difference is that we took advantage of our chances," said Simon.  "We had a lot of ups and downs in the match, and we will work to improve," he added.
The Cubans, who play in Pool F along with Argentina and Brazil, play the extremely tough Brazilians on Thursday.  In the qualifying round the Cubans were 8-4 while Brazil went 11-1.
In the other match up on Wednesday,  Serbia the host team, swept the defending league champion USA 3-0 (25-20, 25-23 and 25-22).   The two teams play in the other group, Pool E along with Russia.  The USA plays Russia on Thursday.
Round robin play concludes on Friday with Russia playing Serbia and Brazil facing Argentina.
The semifinals take place on Saturday July 25, with the first place team in Pool E playing the runner-up in Pool F.  The Pool F winner plays the second place in Pool E.
The two winners will then meet in the finals on Sunday July 26, while the losers play for the bronze medal.
Last year, Cuba did not make the second round, finishing tied for 10th overall in the 16 team competition.  In 2008, the runner up to the USA was Serbia, with Russia third and Brazil fourth.